Expert staff in the line of fire in the tech sector.
Analysts attribute these job losses to a slowdown in growth, automation of lower-end work.
Illustration: Dominic Xavier/Rediff.com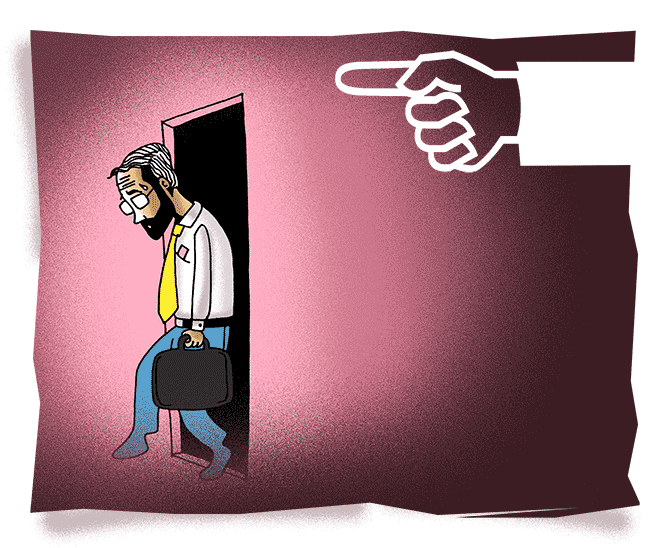 Chakravarthy Narayan was in for a shock when he went for a meeting with the human resources manager at an IT services company last month.
A day ago, a conversation at his office had veered around how resources could be rationalised. As a programme manager, Narayan managed around six teams. Little did he realise that he was being let go.

"I was the most expensive resource," he said, having spent around two decades in at least three large companies.

As the IT industry faces its worst challenge in nearly a decade, employees on the block are the mid-level and senior managers who draw a substantial compensation. "Those with 10 to 15 years of experience is a ripe fruit," said Narayan.

Analysts attribute these job losses to a slowdown in growth, automation of lower-end work, such as programming, and a shift in demand towards more outcome-based projects.
Saurabh Govil, head of human resources in Wipro, the country's third-largest IT firm, said the growth slowdown was one of the reasons for a stricter scrutiny of performances.
Software engineers or managers who fall in the 5 to 15 years' experience category typically have roles such as team leader, project manager, programme manager, software or technical architect, functional manager or supervisor, solutions or pre-sales lead, or engineering manager. Some employees may have retained the same roles while adding years of experience.

Times, however, have changed for the industry, which has long played the cost arbitrage card and could afford to keep thousands of programmers or coders off projects for a few months. Today, a major IT firm said, it would be impossible to keep employees on the bench without work.

"Most IT majors have now shifted to monthly appraisal and they do not want to let go of thousands of people at once. They are trying to put these people on posts internally in some other jobs," said Kris Lakshmikanth, chairman and managing director of The Head Hunters India, a specialised recruiting agency for the IT industry.

Lakshmikanth said nearly 100,000 jobs would disappear from the 3.9 million the sector offers today. "This data is based on the interactions with various people from the industry across the US, India and Europe," he added. "There has been a structural change in the IT industry and it may be difficult to retrain a large portion of mid-level employees."

According to a Bengaluru-based analyst, during the past five years (since 2012) the number of mid-level employees (5-15 years) in the sector had risen to 70 per cent, from a little over 50 per cent.

This means job losses will have real consequences for society, as many of them have loans and EMIs.

Nandita Gurjar, former human resource expert at Infosys, said, "If the reasons are not linked to non-performance, job losses can become a social issue. The reasons are important. If it is part of performance management process where an employee is consistently non-performing, then letting the person go seems to be right. However, if in the name of performance management, people are being let go to reduce headcount, it is unfair as also a serious issue."

Unlike Lakshmikanth, Gurjar said, "It is too early to speculate how many jobs would be lost. Re-skilling is an important agenda, with the emergence of digital technologies such as cloud and artificial intelligence. As engineering colleges are far from equipped to retrain these people, the organisations will have to take on a bigger role to build facilities internally to upgrade the skills of their employees."

"The large companies are very mature and profitable. Not many people skilled in new technologies will come from outside but they will have to be re-skilled internally," added the former Infosys HR head.

Ray Wang, principal analyst and founder of Silicon Valley-based Constellation Research, said the industry's problems are not a crisis."But, we do anticipate that 20 to 30 per cent of the workforce will be reduced by 2020. We do see an increased hiring in skills around data science, artificial intelligence, design, and design thinking. What we are seeing here is structural (change). Robotic process automation and AI are replacing a certain skill set of jobs at a rate that has not been seen before," Wang observed.

While none of the companies have officially declared the number of jobs that will be redundant, experts are not sure if laying off is the only option before companies.