The US government should not only look at salary, but also focus on skills while making immigration reforms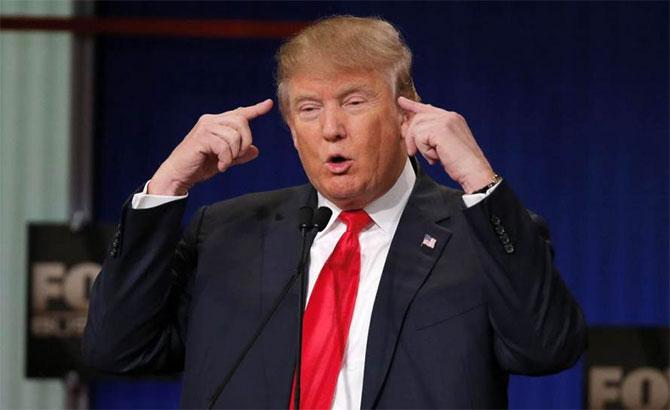 US President Donald Trump's proposal for immigration reforms to encourage merit-based migration might help India's export-focused software and information technology (IT) sector.
Indian IT companies, such as Tata Consultancy Services, Infosys and Wipro, as well as multinationals like Google, IBM and Facebook send engineers on work visas to work on client locations in the US. They account for nearly 70 per cent of H1B visas issued every year to high-tech workers.
On Tuesday night, in his first State of the Union address to a joint session of the US Congress, Trump said, "Nations around the world, like Canada, Australia and many others, have a merit-based immigration system. It is a basic principle that those seeking to enter a country ought to be able to support themselves financially."
He also said, "Switching away from this current system of lower-skilled immigration, and instead adopting a merit-based system, will have many benefits; it will... raise workers' wages, and help struggling families - including immigrant families - enter the middle class."
During his election campaign last year, Trump had called for tougher immigration laws for technology companies, and had threatened to impose taxes on companies that moved work offshore.
In January this year, the Democratic lawmaker from Silicon Valley, Zoe Lofgren, introduced a Bill in the US Congress to mandate companies who employ workers on H1B visa to double their pay to $130,000 a year from the current $60,000.
Since then, India has been aggressively lobbying with the US government for a free movement of technical talent. The National Association of Software and Services Companies (Nasscom), the trade association of Indian IT firms, has said outsourcing helps generate 50,000 jobs in the US and about $20 billion in taxes.
It also pointed the US might face a shortage of over a million software engineers in the next few years.
Responding to Trump's statement, Nasscom chairman and Tech Mahindra chief executive officer C P Gurnani on Wednesday said, "He (Trump) is open for highly skilled workers and he has been consistent on this."
Analysts said the US government realised challenges in getting high-skilled workers while undertaking immigration reform.
"This goes to show Trump's administration has realised how deep-rooted the matter is. It should not only look at salary, but should focus on skills while making any immigration reform," said Sanchit Vir Gogia, chief executive, Greyhound Research.
In a note, Gogia said, "Most US-based Fortune 500 organisations are deeply invested and dependent on IT service providers using H1B visas to source skills. These companies actively outsource for both skills and cost advantages - important to note, it is not just the latter that drives the decisions."
Peter Bendor-Samuel, a global technology researcher, said Trump is "holding out a small olive branch to immigrants" and will stick to his American first protectionist stance.
"Trumps statements pertaining to a merit-based system for immigration provided hope to Indians seeking to emigrate to the US with advanced degrees. However, it is unlikely that it signals less hostility toward the current H1-B system."
Trump has been "very clear that he is seeking to eliminate the ability of services firms to utilize H1-B and L1 visas as a bridge to taking US jobs off-shore", said Bendor-Samuel, adding "this position is gaining considerable support from both political parties".
Infosys and TCS refused to comment; Nasscom said it needed more clarity. IT firms were also worried about the possibility of increasing minimum wages for workers on H1B visas, as it might impact their short-term margins by 5-10 per cent - adding to the sector's hardships because of a shift to digital technology.
Nasscom has deferred its annual growth forecast for the first time in two decades, citing uncertainty in the $108-billion software export market.
D D Mishra, research director, Gartner, said, "The incremental impact of the changes may not be significant for the Indian IT sector, as it already employs a highly skilled workforce. Indian IT companies are also contemplating on increasing the local workforce (in the US)."
He was, however, concerned about the "merit-based" rule applying to the families of workers, too.
"It is an additional concern... expected to make US jobs less lucrative," said Mishra, adding such a system might prove to be a hurdle in employing and retaining talent, and, in turn, delivering services.
Photograph: Chris Keane/Reuters