With Maaza, which already has the biggest share in mango beverages in the Indian market, Coke is betting on a winning horse, say experts.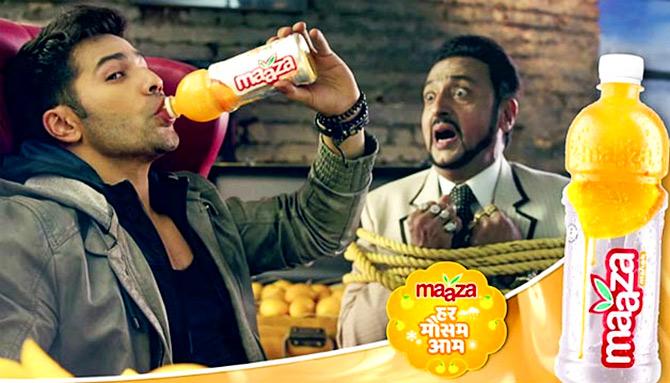 IMAGE: Varun Dhawan and Gulshan Grover promote Maaza.
Coca-Cola is adapting to increasing consumer alarm over carbonated drinks by betting big on one of its flagship brands in India.
Maaza, the brand that the company bought from Ramesh Chauhan owned Parle-Bisleri nearly four decades back, is set to get the lion's share of the cola major's attention in the coming years.
Coke seeks to make the brand a billion dollar behemoth by taking it into new territories and increasing manufacturing capacities.
It has also launched a new campaign that targets the young, a demographic that is strident in its criticism of cola drinks.
Coca-Cola India is not alone in expanding the share of non-carbonated drinks in its portfolio. Rival Pepsi has an array of juices and fruit-based beverages too.
With Maaza, which already has the biggest share in mango beverages in the Indian market, Coke is betting on a winning horse, say experts.
Betting on the popular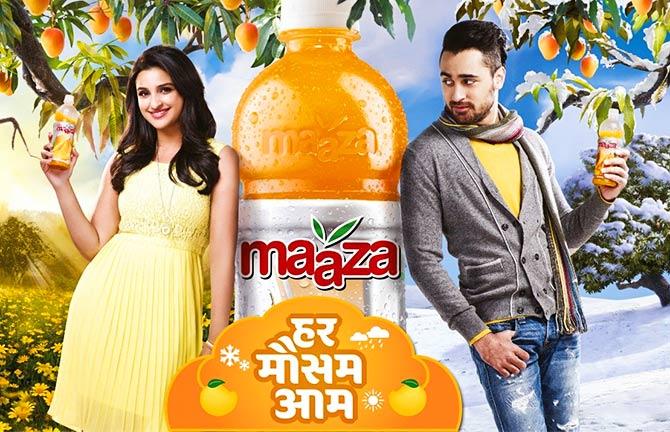 IMAGE: Parineeti Chopra and Imran Khan get flirty with Maaza.
Mango beverages are the most popular in the juice category, which is rapidly outpacing the carbonated drinks segment in terms of volumes growth.
The carbonated segment has grown by 27 per cent, volume-wise, in 2016 over 2013. But the juices category (all beverages that have up to 24 per cent fresh juice content) has grown by 73 per cent over the same period.
A spokesperson from Coca-Cola India says, "Maaza is the country's largest fruit juice drink."
He cites a recent Euromonitor report that said Maaza led the ₹11,922 crore juices market with a 36.1 per cent share (retail volume), followed by Parle Agro's Frooti (24 per cent share) and PepsiCo's Slice (22 per cent) in 2016.
Given that the brand already has a head start in the category, the company believes it has a shot at getting Maaza to clock over $1 billion in sales by 2023.
Euromonitor has forecast that the juices category will clock a compounded annual growth rate of 17.6 per cent between 2017 and 2021. The carbonated category would grow by only 6.6 per cent during this period, while nectars (fruit content usually over 50 per cent) would grow by 9.1 per cent.
This gives mango juice brands a clear edge over the rest.
But is Coke being too ambitious with its targets?
According to an analyst with Euromonitor, Maaza has been moving off the shelves with quickening pace.
"Off-trade value sales reached $376 million in 2015, more than doubling from $177 million in 2010," she says.
She believes that given Maaza's affordable pricing, Indian consumers' love for mangoes and Coke's strong communication initiatives and distribution network, the target is reachable.
Pitching it right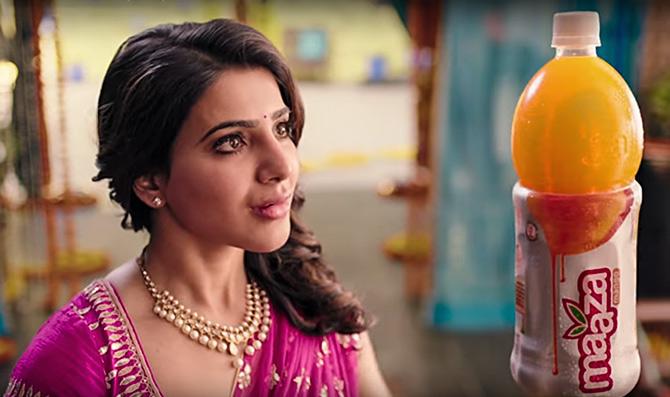 IMAGE: Coke recently roped in actor Samantha Ruth-Prabhu as their first south-based ambassador.
Ambi Parameswaran, founder of Brand-Building.com and former CEO of FCB Ulka, feels that Coca Cola must be sure about how it wants to position Maaza.
"If it is looking at the mass market, having a Katrina Kaif sell the brand helps. However, if Coke wishes to sell it to a more discerning customer, then other stories have to be built," Parameswaran says.
Interestingly, Coke has recently roped in their first south-based ambassador actor, Samantha Ruth Prabhu. This might have been done keeping in mind that the company is working on taking Maaza deeper into the south where there is a demand for mangoes, but the fresh fruit is rare.

Getting an actor on board helps people identify with the brand and builds an aspirational value in what is seen as a common drink, which is why most mango beverages have celebrity endorsers.
Parle Agro's Frooti has Alia Bhatt launching their new drink Frooti Fizz. The company has recently said that this is part of their wider strategy to double its revenue to ₹5,000 crore by 2018, much of it which would come from its flagship brand Frooti.
Vadodara-based Manpasand Beverages, whose flagship brand Mango Sip has a 10 per cent share of the market, is aspiring to capture a 22 per cent share in coming days.
Abhishek Singh, promoter-director, Manpasand, does not believe much in advertising. He says, "We have observed that managing the supply chain and maintaining good relation with distributors are more fruitful than deploying sizeable resources in advertising and promotions."
What matters the most in this 'push category' of products is availability at retail outlets and having the right pack size, Parameswaran feels. Coke is working actively on that.
A company spokesperson said, "We have already introduced multiple pack options to allow consumers to enjoy the perfect serve size of Maaza."
The resource infusion behind Maaza is a part of the company's and its bottlers's $5 billion investment plan for India.
The bottlers are setting up five greenfield projects over the next two years (to add to the existing 57 plants). At least 50 per cent of the new capacity will be for Maaza, they have said.
Coke is working on strengthening its procurement chain too.
According to the spokesperson, the company annually procures 70,000 metric tonnes of mango pulp worth Rs 500 crore in India.
In 2023, if Maaza is to become the billion dollar brand from India, the company will need two lakh metric tonnes of mango pulp annually, worth nearly Rs 1100 crores.
If the company can pull it off, it may not only help redefine Coke's image in the country, but could also dramatically alter the way the country's most popular fruit is grown and sold.