Investor wealth surged by nearly Rs 85,000 crore (Rs 850 billion) on Friday on all-round buying in Indian stocks after the European Central Bank announced a potentially unlimited bond-buying plan to revive Eurozone's ailing economies.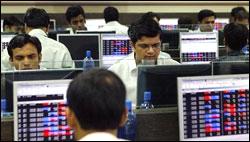 In sync with positive global market sentiments, the BSE benchmark index Sensex today settled at 17,683.73, up 1.95 per cent or 337.46 points -- its best single day gain in over two months.
In the overall market, nearly 1,800 stocks rose. Following the surge in the market, total investor wealth moved up by Rs 84,805.98 crore (Rs 848.06 billion) to Rs 61.69 crore (Rs 617 million).
All the 13 BSE sectoral indices ended in green in range of 1-3 per cent with investors recording best gains in capital goods, metal, banks and real estate stocks.
Among the 30-share Sensex stocks, all ended higher with gains led by Tata Steel that rose 5.72 per cent, followed by ICICI Bank up 4.68 per cent and Tata Motors at 4.4 per cent.
The 50-share National Stock Exchange index Nifty spurted by 103.70 points, or 1.98 per cent to 5,342.10.
Analysts said sentiments were revived today after the explicit bond-buying programme announced by the ECB on Thursday.
"Global indices witnessed strong rally after the much-awaited European Central Bank (ECB) unveiled steps to buy the bonds of eurozone countries to curb the region's debt crisis. Market sentiment was also supported by China's advancement on infrastructure projects to spur economic growth," Bonanza Portfolio vice president Rakesh Goyal said.
Photograph: Punit Paranjpe/Reuters