Don't invest more than 5 per cent of your portfolio in bitcoin.
The virtual currency's price has run up very fast and experts feel a correction may be around the corner, experts tell Tinesh Bhasin.
Illustration: Dominic Xavier/Rediff.com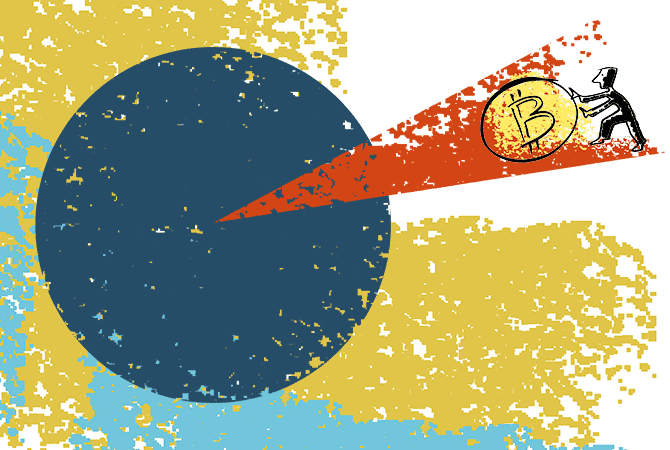 As bitcoin gets more expensive and hits new highs, it is attracting more and more users.
It took three years for the bitcoin trading platform Unocoin to garner its first 100,000 customers. But in the past three months, since the cryptocurrency started rising steeply, it has added 400,000 new investors or 50 per cent of the total user base it currently has.
Other platforms are experiencing similar growth. Such investors need to exercise caution when investing in this asset new and volatile asset class.
"As the virtual currency makes new highs, more people are getting to know about it and investing in it, driving its price even higher. We have observed that earlier, many investors invested small sums in bitcoin. But now a few investors are putting in higher amounts, thereby driving prices up," says Ashish Agarwal, founder of Bitsachs, a cryptocurrency trading platform.
Since the supply of bitcoins is limited, its price is likely to rise so long as new investors invest more money in it.
But even those who run bitcoin currency platforms warn that investors should get cautious.
"Bitcoin is a long-term growth story, but it can be highly volatile. If you are new, invest only a small amount of money that you can afford to lose," says Sandeep Goenka, co-founder and chief operating officer, Zebpay, a bitcoin exchange.
Investors, Goenka adds, should understand the volatility and market risks associated with the currency.
Whenever there is adverse news related to a cryptocurrency, such as of a theft, a scam or a government clampdown, its price tends to fall.
In the past, bitcoin has declined over 50 per cent a number of times.
"One should only put in any meaningful money after understanding the technology and experiencing the volatility in price movements," says Goenka.
If you already own bitcoins, and have earned handsome returns, you should book partial profits, just as an investor would do in any other asset class.
You may remain invested in the cryptocurrency if you are convinced about its long-term prospects.
"I would expect a correction in bitcoin going forward. It's difficult to predict when and at what price level. But too much money has gone into it too fast," says Sathvik Vishwanath, chief executive officer and co-founder, Unocoin.
Investment advisors say investors need to first ask themselves why they want to invest in bitcoin.
"If it's because of the returns in the recent past, then it's a strict no. If they understand it and want to be in it for the long term, then they need to look at how it will fit in the overall portfolio," says Amar Pandit, founder, HappynessFactory.in
Investment advisors add that bitcoins should be viewed as an alternative asset class.
Once you have your equity and debt investments in place, only then should you look at such an investment avenue.
To curtail risk, limit your exposure to cryptocurrencies.
Exposure to them should depend on your risk-taking capacity.
It should not exceed five per cent of your portfolio. Start small. Once you have gained some experience, take the systematic investment plan route.
Since it is a volatile product, averaging out the cost of purchase will help.
Many investors are also looking at other virtual currencies such as Ethereum, Ripple, Litecoin, etc. But those running virtual currency exchanges suggest that investors should be more cautious if they are looking at other cryptocurrencies.
There are over 3,000 cryptocurrencies in existence today.
"None of them has the credibility of bitcoin," says Goenka. "They could be alternative options in the future but it's better investors wait until other virtual currencies gain similar credibility and popularity."