Larsen & Toubro Chairman A M Naik (below, left) wears the Indian tri-colour and his company's logo on his jacket because, he says, he is as passionate about protecting India's manufacturing sector from the onslaught of Chinese imports as he is about the future of L&T after he retires in 2017. In an interview with Shyamal Majumdar & Malini Bhupta, Naik talks about his succession plan, which involves a distributed leadership model and his strategy for a leaner L&T, where the structure of half of the businesses will be "simplified". Excerpts: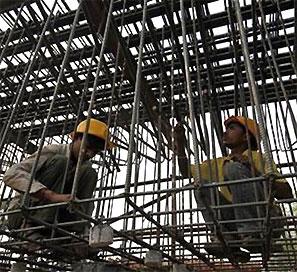 Are you seeing any green shoots that the government keeps talking about?
I don't think anything will happen till a stable government comes to power.
How do you rate the UPA government's performance over 10 years?
The figures speak for themselves. Manufacturing growth, for the third time after Independence, is in the negative territory. Manufacturing accounted for 17 per cent of GDP a couple of years ago but is now down to 13 per cent.
The two sectors that could have saved the day — infrastructure and manufacturing — are in a mess. Infrastructure projects worth Rs 8.75 lakh crore and investments to the tune of Rs 2.5 lakh crore are stuck. Today, foreign companies don't want to invest in India.
Where has India gone wrong?
We largely export commodities like cotton, copper, organic chemicals, plastic, salt, sulphur, iron ore, stones and other raw materials, which constitute our top 10 exports. Our imports are boilers, turbines, electrical equipment, nuclear inter-boiler and project goods.
If these equipment were manufactured in India, tens of thousands of jobs would have been created. For every billion dollars in trade deficit, 50,000 jobs are lost. Every other country is protecting its interests, but we seem to be an exception.
What about L&T's huge debt, especially IDPL; do you have a plan to reduce it?
Our debt is Rs 62,000 crore (Rs 620 billion). Of this, Rs 28,000 crore (Rs 280 billion) is in L&T Finance, which is on its own. It is proportionately coming to us because it is a subsidiary. L&T's debt is Rs 8,000 crore (Rs 80 billion); Rs 25,000 crore (Rs 250 billion) is in IDPL.
This is my other priority, as I want to make the company asset-light and bring down debt by Rs 10,000 crore (Rs 100 billion) in three years' time.
At the consolidated level, our debt should be less than Rs 30,000 crore (Rs 300 billion). Our net worth is Rs 40,000 crore (Rs 400 billion). All the projects are non-recourse but still, as a parent company, we are worried and need to lighten it.
Getting talent into infra companies has bothered you for quite some time.
Yes, nobody wants to join an infrastructure company. We are facing an issue at all levels. Since L&T is very diversified, it is a recruitment haven for others but we cannot get people from other sectors to work in the infra sector.
That brings us to the succession issue at L&T. Do you have a plan in place, considering you are to retire in 2017?
It is a challenging situation. For example, we have been searching for a leader for the hydrocarbon business for quite some time. Internally, we don't have an inventory of leaders. Though I started building the pipeline 10 years ago, attrition at the middle level is high, as multinationals are hiring due to a boom in the energy business.
Today, a CEO gets $4-5 million in a year in the hydrocarbon sector. Also, I won't get best talent globally, as they have reservations about working for an Indian company. And, live in India, where quality of life is an issue. So, we have decided to move our business headquarters to Dubai. We have found an Italian who will take over one part of the hydrocarbon business. He will look after upstream to begin with.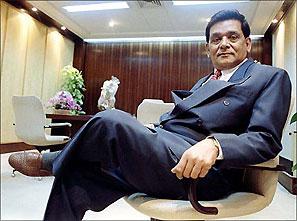 Are you facing the same issue across verticals?
I don't run one company only. There are 21 companies within L&T and I need to address this question for all of those. I have to create 21 organisations, hire 21 CEOs and build 21 international organisations.
What is the road ahead?
I have appointed two directors (S N Subrahmanyan, who heads the engineering and construction projects division, and Chief Financial Officer R Shankar Raman) who are just over 50 and have an innings of 12-15 years.
Will L&T have an executive chairman after you?
I don't know if there will be an executive or non-executive chairman after me. I am almost like the founder of the company and will finish 50 years in March 2015. We are not working because we want to hang around. Nobody (at the senior level) is working here for salary. I have three senior people retiring this year. So, succession is not just about replacing one person.
I am personally mentoring 19 people today. I need only two executive assistants, but I have 13. I am training people who may be relevant only 10-12 years later.
Do you think everyone is making a big deal about your retirement and L&T's succession?
I am going to be 75 in September 2017 and will not continue because I don't have the energy; you need a younger person. But ask me this a year before I turn 75. If we set up a strong management structure, there will be no need for me to continue. I don't want people to say I did not leave behind a proper succession plan.
Some senior people are retiring this year. Who will replace them?
I have a plan on who will take over which piece of L&T in 2015 and 2016. Somebody will also emerge as CEO a year before I retire. That will take care of 70 per cent of L&T but the balance 30 per cent needs priority.
What will L&T look like in a few years and who will replace you?
The company needs to be simplified and some businesses need to be sold; the others will have their own CEOs. L&T has to act like a shareholder now and not act like management. At L&T Finance, for example, I take interest only from a strategic point of view.
That's the model I would like to follow for other businesses, too. Who will replace me? I have no idea and the board and the nominations committee will take a view on this. At L&T, 21 companies are merged into one. Like other diversified conglomerates, there will be many CEOs in the times to come.
Will the new CEO be an internal candidate?
I cannot say that. If we find a superlative person from outside, we will see or will select an internal candidate. There may be a chairman who manages all the 21 companies but he may be a non-executive chairman. Fifty per cent of business will remain as those are, but the rest will be simplified.
Do you have a committee to identify the CEO?
We have 21 search firms working with us.
What is your prescription to revive manufacturing in India?
I have suggested 25 per cent safeguard duty on all imports from China till they become a market economy. Second, we must review our free trade agreements. The third is to rationalise taxes for export-oriented manufacturing. Fourth, exports have to be incentivised. Fifth, port and logistics infrastructure needs to be improved.