BJP's prime ministerial candidate Narendra Modi is not doing anything new to please the masses, says Union Commerce and Industry Minister, Anand Sharma. He does not mince words to point out that Gujrat lags in rural development and other social indicators too.
Commerce & Industry Minister Anand Sharma , in an interview with Sanjay Jog, says Gujarat's development model, being sold by the Bharatiya Janata Party (BJP)'s prime ministerial candidate Narendra Modi, hasn't yielded results. The state lags in rural development and other social indicators, he adds. Excerpts: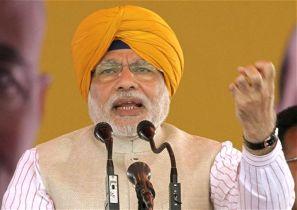 What do you think of the BJP's economic vision and development model, released recently by Narendra Modi?
It is all Modi's packaging and marketing. There is no originality, as it is a borrowed and rehashed one.
The new vision Modi has been talking about is nothing new; it has already been implemented by the Congress-led United Progressive Alliance (UPA) government at the Centre. Ours is the original one.
It was our government that released the National Manufacturing Policy in October 2011, with an objective of increasing the share of manufacturing to 25 per cent.
The policy envisages the development of national manufacturing and investment zones. These will be cities of the future and will help India emerge as the global manufacturing centre. Besides, a slew of pro-development initiatives were also launched.
Modi is also selling the Gujarat model.
Modi has been making loud claims about the investment proposals Gujarat has received, especially during his tenure — between 2000 and 2013. Cumulatively, does it amount to more than the total foreign direct investment (FDI) of USD 300 billion ( Rs 18.61 trillion) proposed in India during the same period?
Of the USD 300-billion FDI proposals, according to data by the Reserve Bank of India, Maharashtra tops the list at USD 63 billion (Rs 390915 crore), followed by the National Capital Region of Delhi and parts of Haryana and Uttar Pradesh. Then come Tamil Nadu, Andhra Pradesh and Karnataka.
During the same period, Gujarat received FDI proposals of USD 8 billion( Rs 49624 crore). The numbers are quite self-explanatory.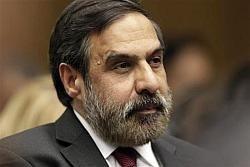 Besides, Gujarat lags in rural development and other social indicators. Moreover, Gujarat is the third most indebted state, after Uttar Pradesh and West Bengal.
Modi also made loud claims about high gas reserves in Gujarat and invited investors in exploration and production.
However, in time, investors have not seen any truth in these claims and some have already started leaving the state.
Has UPA-II cleared FDI in railways and construction?
The Cabinet notes have been cleared and inter-ministerial discussions in this regard are completed. It will take a final shape soon.
Doesn't India's current account deficit (CAD) worry you?
In the interim Budget, Finance Minister P Chidambaram said this financial year, India's CAD would be contained at $45 billion, well below the record high level of 2012-13. It has narrowed during the first half of 2013-14. We are bringing it down substantially. This year, CAD will be much lower.