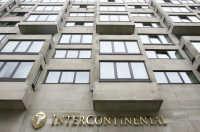 Global hospitality major InterContinental Hotels Group says it plans to open 150 hotels across India by 2020 as part of its expansion strategy.
"Our aim is to have 150 hotels open across India by 2020," says InterContinental Hotels Group India, Middle East and Africa Chief Operating Officer Pascal Gauvin.
At present, the hospitality chain has 12 hotels in India. The company currently has three of its global brands in India - InterContinental, Crowne Plaza and Holiday Inn.
The hospitality firm is planning to introduce its fourth brand, Holiday Inn Express in India this year.
"The first Holiday Inn Express in India, which we are launching in November, will be
in Ahmedabad," he says.
On being asked if the company was planning to introduce any more brands to India in near future, Gauvin says, "The 150 hotels are due to be within those four brands."
The hospitality group operates hotels as a franchiser, manager and on an owned and leased basis. The InterContinental Hotels Group has 3,886 hotels under franchise agreements and manages 646 hotels.
The number of the company-owned hotels worldwide is just only 10. The hospitality firm has more than 6,66,000 guest rooms in over 4,500 hotels in nearly 100 countries and territories around the world. It operates nine hotel brands including InterContinental, Crowne Plaza, Hotel Indigo, Holiday Inn, Holiday Inn Express, Staybridge Suites and Candlewood Suites.