It's been a little over two years since Jim Whitehurst took over as the president and chief executive officer of Red Hat, the only open source solutions firm listed on the New York Stock Exchange. He has little cause to complain. In the first quarter ended March 31, Red Hat's subscription revenue for the quarter rose 20 per cent. While the company does not give country-specific details, its Asia-Pacific (Apac) business grew 16-20 per cent. Within Apac, after Japan, India and China are the next big markets. In a chat with Business Standard, Whitehurst talks about India expansion plans, its latest offering in cloud computing and India's most ambitious project 'Aadhaar'. Excerpts: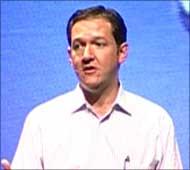 Since you took over in 2008, how have things panned out, especially in markets like India?
It has been an extraordinary ride so far. I took over just before the slowdown kicked in. We have done well. When I joined Red Hat, we did a little over $500 million. This year we have guided around $850 million.
What we have also seen is that open source is moving mainstream and it is no more restricted to the 'techies' within a company. It is no longer considered scary. Also, for us, we have moved away from being just a Linux company to focus on enterprise infrastructure too. Our recent cloud computing offering also makes us get the majority mindshare.
Would you say the same for India?
When you look at enterprise customers, their adoption level in India is still relatively less than their counterparts in the US. But in the government segment, the understanding and the technical sophistication is well-entrenched. The government is a large customer for us in India.
Is Red Hat participating in the UID project?
Nandu Pradhan (president and MD India): We are definitely in talks with the government. It is one of the most prestigious projects. But we are not system integrators, hence we are not working directly. We are working with partners. We have won requests for proposal (RFPs) in some of the contracts that have been awarded.
So MindTree, which won the application service contract, is using Jboss (a Red Hat product). We are also a small part of the Biometrics contract deal that is coming up.
When can we see Red Hat specifically and Linux per se coming to the desktop level?
I think there is no business model around this. Red Hat is a singularly-focused open source player, which is also a publicly-traded company. We do not sell software. Software is free and the reason we exist is because we provide a whole set of offerings that makes open source consumable.
We sell subscriptions to a set of software to provide stable business operations. At the consumer desktop level, why and what would an individual pay for? You can download this for free. Until someone figures out a business model for consumer desktop, there will not be an effort made to create a consumer desktop offering. We do work with hardware vendors on the enterprise desktop level, where customers want to see consistency with their servers.
But Google does see an opportunity there.
I am really hopeful that the Google model is successful. We get millions of computers running on our code-base but we don't get a nickel out of them. But that's ok, as more people use Linux the better, as they start contributing to the code and it gets better. Google's model is advertisement, and I hope it works for them. It is not for us.
Anything unique about Red Hat's cloud offering?
We are saying we can build a cloud offering for clients in a day. I do not think there is any other vendor who can do this in a day. For us, the concept of cloud defies a single concept. While there is a huge curiosity about cloud, no CIO is clear about what cloud does.
We have come up Cloud Foundations: this is not a platform-based offering or a solution. What this allows the customer to do is to create an architecture and use applications that they want. This will not tie a customer to a single IT vendor. If the cloud solution is not done properly, wherein applications can truly move, it can be the mother of all lock-ins. This is going to prove expensive. The model where you pay for what you use is of real benefit.