Paribartan (change) in Bengal appears to have caught up with even the iconic Coffee House, a regular hangout for this city's intellectuals. It is renting out its historical premises on Sundays, to "infuse" additional funds.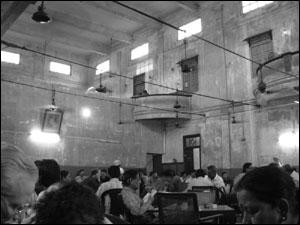 Coffee House on College Street is managed by the Coffee Workers' Co-operative Society; the famous Albert Hall building housing it is owned by the state government. Accordingly, the co-operative pays a monthly rent to the state information and culture department.
Renting out the premises for cultural events on Sunday afternoons is a major shift from tradition. The place remains closed to the public from 11.30 am to 5 pm on Sundays, which used to buzz over the weekends with poets, artists, literati and patrons from the world of art and culture.
"The financial health has been a matter of concern, so we thought this might help. We are renting out the premises for cultural events and meetings on Sundays. Recently, two movies have been shot here. A few more proposals are there, which are yet to be finalised," Dipankar Dasgupta, spokesperson of the Coffee Workers' Co-operative Society, told Business Standard.
Apart from the two contemporary films, recently the Publishers and Booksellers Guild held its memorial service for famous poet Sunil Gangopadhyay, once a regular at the Coffee House. Famous film directors like Satyajit Ray, Ritwik Ghatak and Mrinal Sen also adorn the list of its patrons.
In fact, Gangopadhyay's memorial service had propelled the co-operative to publicise that its premises were now available for such events.
Dasgupta says Coffee House registered a turnover of around Rs 2 crore in the last financial year and it has been on a southward journey for the past two-three years. "The normal rate is Rs 10,000 per hour but it varies, depending on the event. If an association or person plans to have multiple events, then we offer a special rate," he said.
But the co-operative society is very clear regarding the kind of events for which it would rent out the premises. Book releases, debates or musical programmes and events associated with the world of art and culture would be warmly welcomed, Dasgupta said. "It has to be related to culture and something which goes with the image of Coffee House; after all, it is a heritage for us. We don't let it out for anybody just like that. For example, we will promote a book launch but not a launch of any liquor brand," he added.