While the framework of service delivery and client-focused approach remains unchanged, Nilekani's suggestions, of taking start-ups with newer technologies to clients, are being implemented.
Illustration: Dominic Xavier/Rediff.com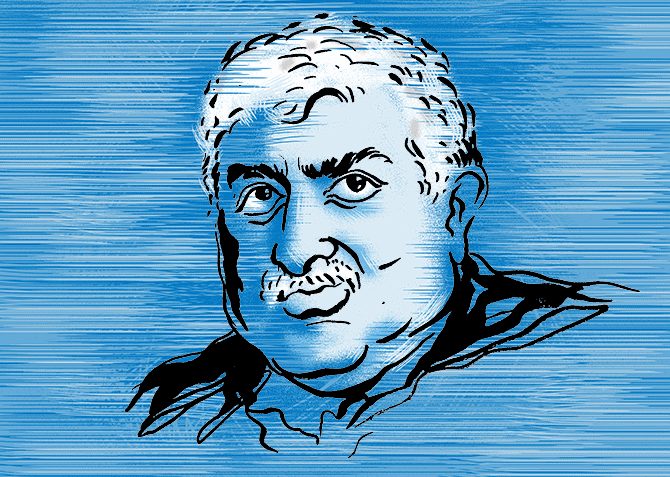 Infosys, India's second-largest software services firm, has focused largely on ensuring business numbers during the near two-month period since co-founder Nandan Nilekani returned to take over as chairman of the firm.
As the $10.2-billion Indian information technology (IT) firm nears its crucial second-quarter (Q2) result announcement (July-September) on October 24, albeit delayed for the first time in many years, two people aware of the company's key focus areas under Nilekani's leadership said "the mandate is to get the numbers right for Q2 and ensure better service delivery to clients".
They clarified the firm's new strategy would come up for discussion at the time of announcement, and there has hardly been any major change in operations from the strategy set by its non-founder chief executive Vishal Sikka, who had quit the company in August.
Sikka, who had set a road map for non-linear growth, had cited distractions over public accusations led by founder N R Narayana Murthy over alleged corporate governance lapses in the company.
Sikka's exit was immediately followed by a public spat between the company helmed by then chairman R Seshasayee and Murthy.
It also saw investors losing confidence in the company's stock.
Nilekani, who had remained silent on Infosys ever since he quit the firm to join the government's flagship programme, Unique Identification Authority of India, as its chairman, was persuaded by Murthy, the investors and the board to take up the reins.
It also led to Seshasayee and the two independent directors exiting the firm.
"The mandate from Nilekani is to not get distracted but ensure timely delivery. Get people deployed and have as little bench as possible, with a hardcore operations-focused approach and keep the costs under control," said one of the two, requesting anonymity.
At operational level, nothing has changed and leaders have been told to make sure "more employees are billed against projects to ensure better margin".
While Nilekani is not involved on a "day-to-day basis" from an operating perspective, and the framework of service delivery and client-focused approach remains unchanged, his suggestions, of taking start-ups with newer technologies to clients, are being implemented.
The status quo at Infosys is also being reflected in "many of the employees expecting flat salary growth and the very senior level salary hikes yet to be announced".
Contrary to popular reaction, he added, "From an employee engagement perspective, nothing has changed. There are employees who are considering alternative careers since consulting is still not considered a priority for Infosys. They are ensuring the numbers are first taken care of".
Infosys has engaged consultant Egon Zehnder to help find Sikka's successor.
For now, interim chief executive officer (CEO) and managing director U B Pravin Rao is battling the botched implementation of the Goods and Services Tax network software, which has led to glitches and affected tax filings of thousands of merchants.
The government had to intervene by setting up a group of ministers led by Bihar Deputy Chief Minister Sushil Kumar Modi to look into the glitches and review the tech implementation every fortnight.
Only two of the 43 issues have been plugged.
Infosys is widely expected by market analysts to report flat Q2 results and may announce a revision in its growth forecast.
Equity analysts largely predict two per cent growth in revenues, while net profit could see a decline.
Both ICICI Securities and HDFC Securities have forecast between two and three per cent revenue growth in constant currency terms for July-September quarter.
Equity analysts across the board have predicted clients' discretionary spending in retail and banking, financial services and insurance likely to impact its Q2 results like its peers in the IT services industry.
On October 24, Nilekani's team is likely to unveil the new strategy drafted by independent directors Ravi Venkatesan and D N Prahlad; indications of the new CEO and Nilekani's feedback on the independent report that Murthy wanted to make public on the probe over the Panaya acquisitions that first led to suspicion of governance failure in the company.
Infosys declined to comment, citing the silent period ahead of the Q2 results.