Power generation and distribution is the most indebted sector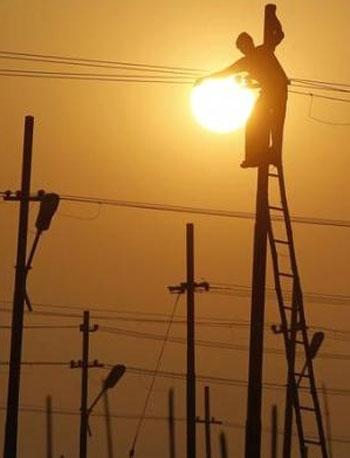 The consolidated debt of over 250 companies in the steel, construction, infrastructure development, and power generation and distribution sectors rose by around 10 per cent in 2014-15 from the previous year.
The most leveraged companies have taken on more debt over the past year, according to an analysis by Business Standard.
The 250 companies surveyed have neither sold significant assets nor raised fresh equity to lower their debt burden. With demand muted, the ability of these companies to service their debt is doubtful.
Power generation and distribution is the most indebted sector, with the consolidated debt of companies rising from Rs 426,345 crore in 2013-14 to Rs 473,038 crore in 2014-15.
Public sector companies like NTPC and PowerGrid Corporation have higher debt levels of Rs 94,000 crore and Rs 91,698 crore, respectively, but they are not highly leveraged. Their debt-equity ratios are at a manageable 1.15 and 2.39, respectively. The leverage climbs in the private sector with Adani Power's debt-equity ratio at 7.23 and JP Power Ventures' at 4.25.
The interest coverage ratio--profit before interest and taxes to interest expenses - of NTPC and PowerGrid Corporation stood at a comfortable 3.93 and 2.57, respectively. In contrast, Adani Power had a ratio of 0.85 and Lanco Infratech 0.26.
The situation is not very different among infrastructure developers. With the exception of Larsen & Toubro, the financial health of private players is precarious. GVK Power has a debt-equity ratio of 11.51 and an interest coverage ratio of 0.09 and GMR Infrastructure 6.15 and 0.21.
In the steel industry, Bhushan Steel has a lower interest coverage ratio of 0.50 and higher debt-equity ratio of 4.89 than companies like SAIL.
"Companies that went overboard on debt are reassessing their position and are starting to consolidate," said Madan Sabnavis, chief economist at CARE Ratings. "The process of cleaning up private sector balance sheets, which involves having to sell assets and restructuring existing debt, will take time," he added.
While some companies have resorted to asset sales to generate cash flow, the trend is not widespread. "Lack of buyer interest on account of lower liquidity or differences over valuation may be impeding asset sales," said Aditi Nayar, senior economist at ICRA.
Debt-laden companies have also not tapped the equity markets in 2014-15. "The reluctance to issue fresh equity could be over concerns related to valuation or reducing promoters' stakes below a threshold," Nayar pointed out.
D K Joshi, chief economist at CRISIL, said in a recent report the process of cleaning up private sector balance sheets would delay the pick-up in private infrastructure investment by at least a couple of years. Till then the onus for reviving the infrastructure cycle lay with the public sector, he added.