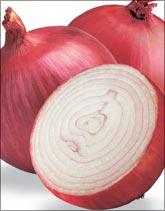 Prohibitively high onion prices haven't become an election issue yet, but failure to check speculators' greed could bring ruling parties in poll-bound Maharashtra and Haryana to tears.
Onion is selling for Rs 30 a kg in some parts of the country, as supply of the edible kitchen bulb has been choked by hoarders betting on further price rise due to floods in the main producing states of Karnataka and Maharashtra, government officials said.
Onion prices have shot up by 67 per cent in Delhi from last week's level, 50 per cent in Mumbai and Kolkata, according to the government's own data on retail rates.
However, the government's rates reflect on the lower side of the prices quoted by retail traders.
For instance, while the Department of Consumer Affairs listed the price at Rs 25 a kg, the commodity is being sold by vendors at a minimum of Rs 30 a kg in the national capital.
"Arrivals in mandis have declined while demand is the same leading to high prices," said Surender Babu, a trader at Delhi's Azadpur mandi.
Electioneering is about to peak in Maharashtra, Harayana and Arunachal Pradesh for the October 13 assembly elections. While political parties are raising the campaign pitch, the onion prices have not really become an election issue yet.
Soaring prices of onions have in the past become hot election issues and toppled many governments, including the BJP government in Delhi in 1998.
Prices have escalated three-fold in the Lasangaon Agriculture Produce Market Committee market in the Nasik district, which produces a third of the country's onion crop.
APMC sources said prices will remain high for the next fortnight at least -- an issue that has been made an election plank in the state by the Shiv Sena. Maharashtra goes to the polls next week.
In Delhi, the APMC price rose to Rs 2,000 a quintal compared to Rs 880 a week back.
The latest situation marks a significant change from just a few days ago when onion prices fell to Rs 650 per quintal due to poor demand. Stock that had been damaged during the harvest could not fetch more than Rs 400 a quintal.
However, R P Gupta, director of the National Horticultural Research and Development Foundation, said the impact would not be serious.
"About 60 per cent of the kharif crop in both these states has been harvested. In the remaining crop, an impact of 15 to 20 per cent is estimated either due to rains or floods. The overall impact on domestic onion output may not be much," he said.
Gupta said only a few districts (such as Kurnool, Mahbubnagar and Cuddapah in Andhra Pradesh and Dharwad and Hubli in Karnataka) have been affected. The Kharif season accounts for around 40 per cent of domestic onion output, while the rest is produced in the rabi season.
A leading onion exporter, however, thinks the pressure on demand will continue for some more time till Maharashtra arrivals begin, but winter prices will remain high.
The only relief could be that India's prices are not competitive enough for exports.
The common man's woes are going to increase with prices of sugar, potato and pulses also rising sharply on the back of lower production over the last few months. Potato prices have also risen 15 to 20 per cent in the last one month on lower output.
Additional Inputs: PTI