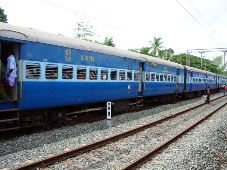 The National Consumer Commission has pulled up the railway administration for failing to handle efficiently and proactively the complaints of passengers who lost their baggage while travelling on trains.


A bench headed by Justice Ashok Bhan said the Railway staff should not carry out their duties in a mechanical manner and directed its administration to pay Rs 50,000 to an IAS officer who lost his bag in Rajdhani Express.


"In a major public service organisation like the Railways, its personnel are expected to be courteous, efficient, vigilant and proactive in their attitude while dealing with passengers, especially those who seek their help in distress", the commission bench headed by Justice Ashok Bhan said.


Vishal Kumar Dev, an IAS officer, while travelling with his family towards Balasore from here where he is posted as district magistrate lost his bag containing cash and valuables worth Rs 1,40,000 from the train cabin.


He
filed a complaint against the railways alleging deficiency in services and harassment which was upheld by both district and state consumer fora.
The railway administration then approached the apex consumer body challenging the decision of State Commission which had directed it to pay Rs 1,45,000 to Dev.


The railways opposed the plea of Dev citing its rules which provides that it cannot be held liable for loss or theft unless the goods are booked.


Though absolving the railways from the deficiency in service charge, the apex consumer body, however, directed it to pay Rs 50,000 for harassment suffered by Dev and his family in addition to a cost of Rs 5000.