IndiGo which has close to 40 per cent market share, at present has 129 aircraft and operates 883 daily flights to 44 destinations. It also has around 400 aircraft on order.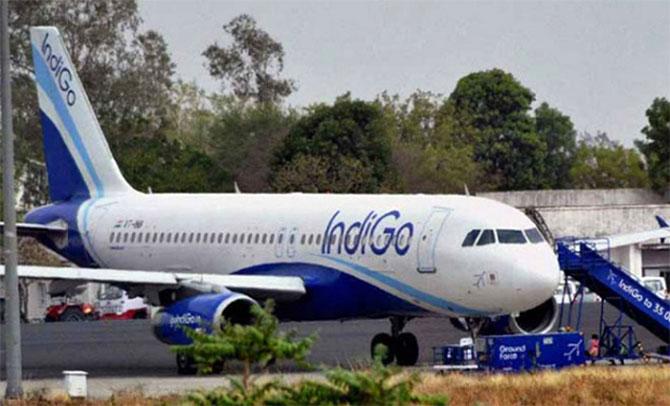 With size of operations growing steadily, IndiGo is looking to tap into expat airline executives as it increasingly finds it difficult to hire skilled professionals at home.
Over the last one year at least four executives from foreign major airlines have joined the airline in crucial positions.
An airline source said the four executives were hand-picked for the roles by promoter Rakesh Gangwal who is now closely monitoring airline's operations.
IndiGo which has close to 40 per cent market share, at present has 129 aircraft and operates 883 daily flights to 44 destinations. It also has around 400 aircraft on order.
Primary among them is Cindy Szadokierski who has around 17 years of experience at United Airlines has been assigned a primary role for airport operations.
Another expat executive Greg Taylor has joined the airline as executive vice president in revenue management. Taylor who has served at senior roles at US Airways and United Airlines has handled scheduling, cost optimisation and revenue management in his career.
Similarly, former Air Asia executive Jason Herter has joined the airline as vice president in the OCC and Dispatch department. Herter was responsible for handling crew management including scheduling, rostering and training for all five airlines of the AirAsia group.
The airline had last year hired Rohit Philip as Chief Financial Officer after Pankaj Madan quit. Philip is also a former United executives. Senior industry sources also said that they are advising current executives.
As it grows operations, IndiGo has been facing many hiccups in the journey like maintain a high on –time performance, healthy passenger load in all the sectors.
While IndiGo set benchmarks on punctuality, rivals have been performing better in the past few months. The issues with Airbus A320Neo engines is also causing concern as it has led to grounding of planes and disruption in schedules.
"It's a win-win situation, those people have years of experience in running operations of airlines of huge size, they will bring on board valuable experience," said a senior executive from IndiGo.
"Most of them have worked with Gangwal, you should remember when the airline was being set up the promoters had bought in foreign executives," he said.
Gangwal along with Rahul Bhatia founded IndiGo and holds 85 percent stake in the airline while the rest has is held by public share holders after an IPO in 2015.
"Frequency of his India visits has increased, earlier he used to come mostly twice a year, the executive said. Gangwal who has been a veteran US Airways and United is also monitoring the performance of the airline on a daily basis.
While Gangwal did not respond to queries, a source close to the promoters confirmed this.
"Airline is entering its next phase of growth, by next year it will have around 200 planes, fly to more international destinations, and hence proper readiness from expert hands is required," the person said.
During initial years, IndiGo had hired expats like Bruce Ashby, Steve Harfst as CEO and COO. An IndiGo spokesperson did not respond to detailed queries.
Experts say that lack of skilled professionals in Indian aviation sector has forced IndiGo to look towards skill hunting in mature markets.
"IndiGo's growth aspirations have painted themselves into a corner where they are trying to find professionals that can help airline take into the next level, today the quality of world-class professionals in India are handful, IndiGo's step proves that India's airline management skills remain far below the world benchmark," said Mark Martin, aviation consultant at Dubai-based Martin Consultancy.

Among Indian airlines, Jet Airways in which Gulf major Etihad has 24 percent stake has numerous foreigners at crucial roles. Low cost carrier Air Deccan in its heydays had hired executives from European airline Ryan Air.
Photograph: PTI Photo