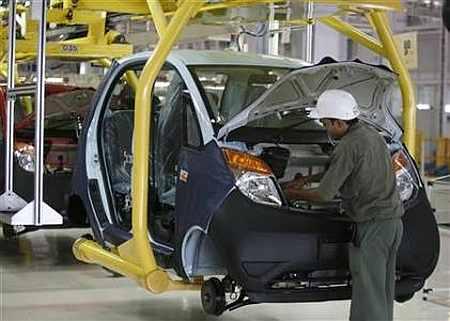 India's manufacturing sector growth improved in November, registering the fastest pace in five months, driven by a strong pick up in new orders and improved purchasing activity, an HSBC survey said on Monday.
The HSBC India Manufacturing Purchasing Managers' Index (PMI) - a measure of factory production -- stood at 53.7 in November, up from 52.9 in October, indicating a further improvement in the health of the Indian manufacturing sector.
The index has remained above the 50-mark, below which it indicates contraction, for more than three years now.
The November reading of HSBC PMI points to the fact that the sector has gained momentum in the last few months, after it registered the weakest pace of growth rate in nine months in August.
"The manufacturing sector gained momentum thanks to a strong pick up in new orders, which lifted output growth," HSBC Chief Economist for India and ASEAN Leif Eskesen said.
However, output growth remains constrained by power shortages, HSBC said adding that backlogs of work still rose, although at a slower pace than in October.
"Output remains constrained by continued power shortages and stocks of finished goods were, consequently, drawn down again to meet the rise in demand," Eskesen added.
On inflation, HSBC said In line with higher input costs, prices charged by manufacturers in India increased during November. The rates of inflation were robust, and faster than in October, which were mainly driven by higher raw material and diesel costs led to the latest increase in input prices.
"Inflation picked up again as higher raw material prices increased input costs for firms and they had enough pricing power to pass these on to end consumers due to the firm demand conditions," Eskesen said.
The RBI is scheduled to announce its mid-quarter monetary policy review on December 18. Reserve Bank governor D Subbarao has resisted a widespread call for the growth-propping rate cuts for some time now, citing the elevated inflation.
"The PMI numbers suggest that the RBI should continue to abstain from easing," Eskesen said. Inflation as measured by all indices has remained elevated and Wholesale Price Index-based inflation has remained above the Reserve Bank's comfort zone of 5 to 5.5 per cent for nearly three years now.
Meanwhile, job creation was recorded in the Indian manufacturing sector in November for the ninth successive month, though the pace of expansion was only slight, HSBC said.