After a six per cent contraction in October, manufacturing activity staged a welcome recovery.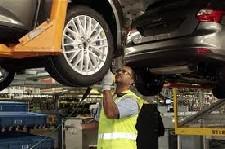 The widely tracked HSBC Purchasing Managers' Index (PMI) rose to 54.2 points in December, the fastest in a month since April 2009.

In another set of pleasant data, four-wheel passenger vehicles witnessed nine per cent sales growth in December, the highest monthly rise since June last year. The numbers defied gloomy predictions by several industry players.

The PMI, a headline index designed to measure the overall health of the manufacturing sector, rose to 54.2 points in December from 51 in November.

While the 6.2 per cent rise was the highest in 31 months, the index was at its highest in six months. A PMI reading above 50 points denotes growth and one below it contraction.

If the trend continues, the second half of the financial year may yield better results for the economy than the first, as projected by the finance ministry. However, the PMI is based on a survey of nearly 500 private sector companies and indicates the broader picture.

The official index of industrial production (IIP), in which manufacturing occupies an overwhelming portion, is unlikely to rise as much in December. It may rather contract due to a high base effect.

The Prime Minister's Economic Advisory Council Chairman C Rangarajan said, "The PMI should be taken into account. Since core industries for November showed production peaked, manufacturing will pick up in the second half."

The eight core sector industries, which constitute 38 per cent of the IIP, grew 6.8 per cent in November.

The IIP grew negatively by 5.1 per cent in October and manufacturing by six per cent.

Leif Eskesen, Chief Economist for India & Asean at HSBC, said the PMI data showed manufacturing activity was not as dull as the IIP numbers suggested.

Rising activity suggests there is good demand in the economy and manufacturers have passed on rising costs to customers. That, Eskesen said, should prompt the Reserve Bank not to lose sight of inflation despite calls to reverse its tight monetary policy.

Financial information firm Markit Economics, which compiles the data, said Indian manufacturers reported a further rise in new business during December.

The latest expansion in new work intakes was the 33rd in successive months. Incoming new work from abroad also rose. The increase in total new business was attributed to stronger client demand.

Reflective of larger new order volumes, Indian manufacturers raised production in December. Output increased solidly, with the rate of growth accelerating since November to a four-month high. Nonetheless, backlogs increased for the third consecutive month. Stocks of finished goods were accumulated only marginally.

Also, employment in India's manufacturing sector increased in December, ending the period of job losses that began in August. However, the rate of employment growth was only slight, with the vast majority of panelists keeping the staff headcount unchanged from November. Input costs for manufacturers rose further.