The US president's stance on immigration could lead to a change in H1B visa rules, reports Business Standard/Ayan Pramanik.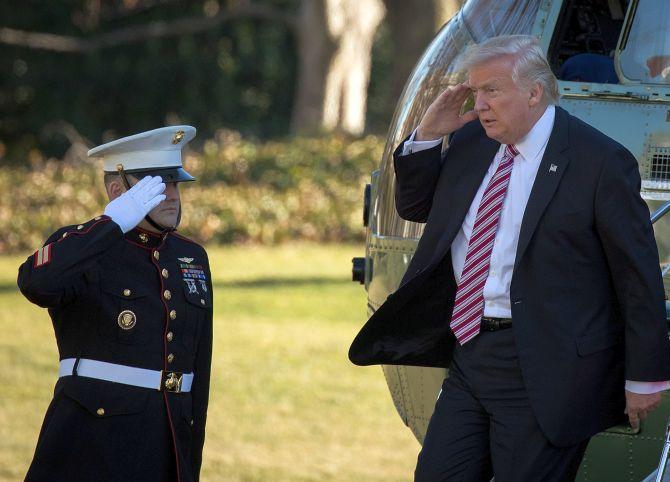 India's software services sector is bracing for the consequences of new US President Donald Trump's action against outsourcing of jobs.
Trump has signed an order to block entry of people, including highly qualified professionals, from seven Muslim-majority nations.
Having won the presidency on the promise of protecting US jobs and against moving work offshore, he has been warning big companies, such as Ford and Carrier, to cancel factory plans in Mexico and shift these home. And, extracted a promise from computer giant Apple and its supplier Foxconn, and online retailer Amazon, to generate as many as 150,000 American jobs.
Thousands have demonstrated in the US to protest Trump's move to block people from Muslim nations, despite their having the needed permits. The US information technology industry has found a rare common ground, saying the measures are immoral and un-American.
Trump's action comes soon after two senators of the US legislature proposed a new law for H-1B visa holders there. Indian IT is keenly watching for Trump's directions on H-1B visa norms -- a large chunk of Indian software engineers on site work in America are on H-1B and L1 visas.
"It is unclear at this point. However, if the proposals for changes at the H-1B visa norms (happen), the industry will surely have an impact," said S Gopalakrishnan, a co-founder and former chairman of Infosys.
India's software lobby group, Nasscom, has asked IT majors in America such as Apple, Google, Microsoft and IBM to lobby with Trump, to explain that more jobs would be generated by US companies if they outsource to India. The potential visa curbs come a time when the traditional IT services sector is under pressure from automation and the shift in spending on newer areas such as digital and cloud.
"So far, it appears Trump is following through on his poll promises. The IT industry is definitely little bit less optimistic. Indian companies will have to hire more locally and it is going to be difficult if such a sentiment continues," said Dinesh Goel of ISG, an IT research firm. "The policies hint at the fact that there is no other way but more local hiring. Indian firms have to find ways to do business with the US, a 60 per cent revenue generator (for them)."
Some experts say Trump's order on refugees and immigration does set the tone but does not directly impact the IT sector. "It is about the environment in the US," said Pareekh Jain of HfS Research India.
Image: US President Donald Trump salutes as he exits Marine One on the South Lawn of the White House. Photograph: Drew Angerer/Getty Images