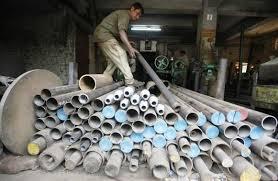 Gross domestic product data released on Thursday showed a sharp revival in industry in the first quarter of the current financial year.

Manufacturing, which accounts for 15 per cent of GDP, grew at 3.5 per cent in the first quarter as against -1.2 per cent in the same quarter in the previous year.

Index of industrial production data had also shown that the sector grew at 3.1 per cent after contracting in the previous quarters.

Ajay Shankar, member-secretary of the National Manufacturing Competitiveness Council, said, "This is the beginning of a turnaround. Manufacturing growth will be strong."

Sounding a note of caution, Aditi Nayar, senior economist at ICRA, said, "With agricultural growth expected to slow down in the first half due to poor rainfall, rural incomes will get affected, which will dampen consumption demand and in turn, the performance of the manufacturing sector."

The mining sector, which has been plagued with legal and regulatory issues, grew at 2.1 per cent in the first quarter after contracting the previous year.

Recent data on core industries also showed a steady rise in the production of coal over the past few months.

Going forward, actions of the Supreme Court, which has declared coal block allocations since 1993 are illegal, will be critical for the sector's
growth.
Electricity in the first quarter grew at 10.2 per cent as opposed to 3.8 per cent in the previous year.
While monthly growth in the IIP estimates has been erratic, quarterly growth shows a steady pick up.
Two issues might weigh heavily on the sector.
First, sub-par monsoon rainfall, which has impacted reservoir levels, will lower hydro power generation.
Second, recent news reports suggest critical levels of coal stocks at several thermal power plants.
Construction, which accounts for almost the entire shift in the labour force away from agriculture in rural areas, has showed signs of a revival, growing at 4.8 per cent as opposed 1.1 per cent in the previous year.
While, Core industries data also showed a sharp pick-up in the cement production; these figures could reflect higher activity during the poor monsoon season.
Gross fixed capital formation has expanded seven per cent in the first quarter, benefiting from a favourable base effect, it contracted at 2.8 per cent the previous year.
Going forward, according to ICRA, how quickly the government tackles the various structural issues, simplifies business and taxation rules and fast tracks approvals, would impact the impact the strength and sustainability of a CAPEX revival in India.