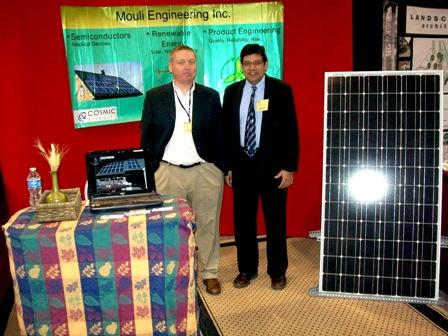 Chandramouli Vaidyanathan feels vindicated and happy after a federal jury awarded $1.9 million to him in a wrongful employment case he brought against Seagate Technology.

Vaidyanathan, 47, came to Bloomington, Minnesota, to take up a job as an yield engineer, but soon found the job did not exist.

Nine-and-a-half months after leaving a manager's post at Texas Instruments in Dallas for Seagate's Advanced Technology Group facility in Minnesota, he found himself unemployed.

"Words cannot describe my feelings or my family's plight," said Vaidyanathan, who has a doctorate in metallurgical engineering from the University of Wisconsin-Madison.

"It was a real nightmare. When we came here, we knew nobody here. It was not a nice thing to say that you are unemployed. We had to start all over again."

Cautioning job seekers, he said, "I think when we get offers from companies for better positions, we have to be vigilant and check for details. I had checked every detail, but was still deceived."

The jury verdict, which was announced on December 9, is for one count and the judge will decide on another count soon, Brent Snyder of Snyder & Brandt, which represented Vaidyanathan, told India Abroad.

"It was a long journey. But justice has been served. We feel happy about the verdict," he said.

Vaidyanathan's case is not a wrongful termination suit. It centres on wrongful hiring. It was as if Vaidyanathan was promised to be the ship's captain but when he arrived discovered that there was not even a boat, Snyder said.

Seagate, based in Scotts Valley, California, employs 2,800 workers at two facilities in the Twin Cities area in Minnesota. It is an $11.4 billion company and a major manufacturer of disk drives.

Vaidyanathan filed the suit for $2.7 million in damages in April last year. He said he had been working for Texas Instruments for more than 10 years when he got the offer from Seagate in 2007 as a yield engineer, a position that focuses on improving product engineering during the manufacturing stage.

But when he arrived in Minnesota, the solid-state disk product he was hired to work on during manufacturing was still in early development. He found that the yield engineer position was years away.

He was instead assigned duties outside of his expertise. He could not do anything at that stage. If he quit, he would have to pay Seagate almost $100,000 for his signing bonus, stock options and relocation costs.

In his suit Vaidyanathan noted that the company misled him in a written job description, and during interviews and in a written job offer.

The case is based on a rarely used Minnesota law from 1913 that makes it illegal to induce a person to move from one place in the state to another, or from another state, territory or country for a job in Minnesota "by means of knowingly false representations".

The company denied the charges, saying Vaidyanathan's belief that it was ready for yield engineering was based on his own assumptions. In November 2008, he was laid off.

"I can't describe that shock. They hired me for a job, and then they fired me for the job not being there," Vaidyanathan said. Texas Instruments had frozen hiring and he could not go back.

He sought $2.7 million based on the compensation and benefits he would have got had he stayed with Texas Instruments till he turned 60. There, he was making a base annual salary of $109,000. He also had stock options, restricted stock, bonuses, a 401(k) retirement programme and other benefits.

He accepted the Seagate job at $126,000, with benefits, relocation assistance, stock options, a signing bonus and an expectation that he would be promoted to manager in six months.

Vaidyanathan has since started his own alternate energy company, Mouli Engineering Inc, and now installs solar panels on commercial and residential buildings.

"It's a growing business, but it's a fraction of the income he earned as a yield engineer," said Snyder.