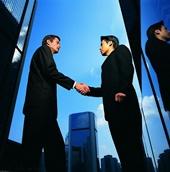 As the US appears to be emerging out of the shadows of recession, small and medium enterprise sector in India is evincing interest in investing in the US market with a view to growing and expanding their business.
"In the last nine months a sizeable number of SMEs have been looking at becoming minority stake holders and partnering with US firms", Siddharth Sarawgi, Director India Office, Fairfax County, EDA, told reporters after a panel discussion led by Frank G Wisner, former US Ambassador to India, with Indian business leaders here today.
The midsize companies currently not present in the US, are keen in having slice of the pie, he said.
The opportunities for SME sector does not lie in just IT but in sectors like life sciences, aerospace, defence and IT-related opportunties in Education and Healthcare, said Narendra Sarawgi, Director, India Office, Fairfax County, EDA.
The SMEs are looking at partnerships with US firms in the area of energy, biotech, environment science, financial services, research, he said.
"These SMEs have global ambitions", but are often thwarted in their moves due to lack of network and information on the ground realities like taxes, legal requirements, real estate and other issues, he said.
The Fairfax County Economic Development Authority, which promotes Fairfax County in Virginia as a business destination, has been in the process of offering these services to SMEs.
"We also help SMEs in gathering information regarding availability of real estate, providing services on legal requirements, taxation and other required data. We guide them on the sectors to invest and data required", Siddharth said.
According to Narendra, with US investing in areas like defence and aerospace engaged, these sectors are expected to see future growth. US investment in homeland security, biotech, IT education and health related spheres as part of the US recovery agenda, also presented growth opportunities for the Indian players.
However, there was a need to ensure the Indian SME players had the depth and resources to sustain, he said.
Some of the recent SME players are not adopting the IT business model of offsite locations but are more focussed on investing and being physically present in the US. These include engineering services and manufacturing firms.
Dismissing scepticism over SMEs' interest in investing in US given the fact that big corporates had burnt their fingers due to exposure in this market, Wisner said while the issue of a slow economic recovery was related to the macro economy in the US, there were "thousands of pockets of growth", when it came to micro opportunities.
He said the fact that the macro economic was sluggish, did not mean there were no opportunities at the micro level.
However, Indian companies would need to complete 'due diligence'. "Indians are discerning and smart buyers of American assets. Though globally it is a soft market, Indians are not getting their hands burnt, but are making money in the short run and laying ground for long term growth", he said.