Indian-origin hedge fund portfolio manager Mathew Martoma has been indicted in one of the "most lucrative" insider trading schemes ever involving $276 million and will be arraigned in a court here next month.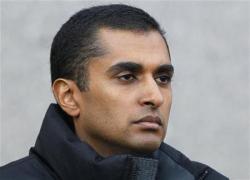 Martoma, 38, was arrested last month at his home in Boca Raton, Florida, on charges of using material, non-public information he received from a doctor on the clinical trial of an Alzheimer's disease drug to make profits and avoid losses for his hedge fund in an amount totalling $276 million.

He was released on a $5 million bail after he appeared in Manhattan federal court for an initial hearing last month. A federal grand jury indicted Martoma on securities fraud and conspiracy charges last week.

He faces a maximum penalty of 45 years in prison and a $5 million fine.

He would appear in federal district court in Manhattan for his arraignment on January 3,
when he would enter a plea.
A Stanford University graduate, Martoma is the son of Indian immigrants and was born Ajai Mathew Mariamdani Thomas.
He later changed his name in 2003.
The US Securities and Exchange Commission has also filed a civil insider trading case against him on similar charges.
Martoma's lawyer Charles Stillman said in a statement that the indictment is disappointing" but was expected.
"The simple fact is that Mathew Martoma did not trade on inside information, is innocent of all these charges, and we look forward to his ultimate vindication."
He had worked with CR Intrinsic Investors, an affiliate of SAC Capital Advisors. SAC is owned by hedge fund titan Steven Cohen, who is among one of the world's richest men.
Martoma is the fifth person associated with SAC, which is considered one of the most influential hedge funds, to be charged with insider trading.