While benchmark indices of US, UK, Germany & India have climbed to new peaks, South Korea, Taiwan and New Zealand are currently between 2 per cent and 10 per cent below their previous highs.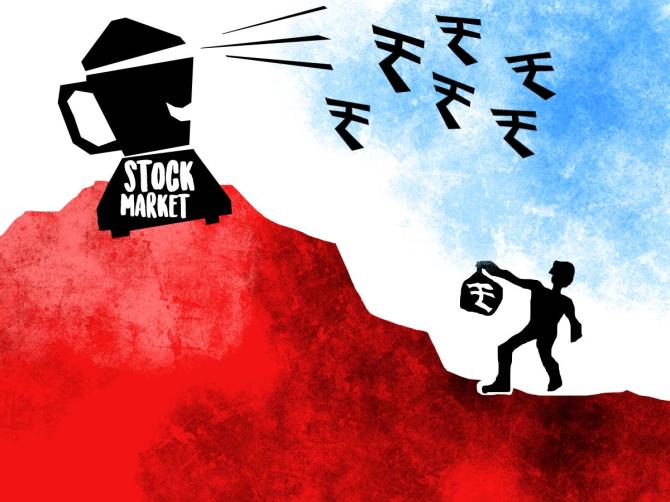 Domestic equity markets are in elite company.
In May, Indian markets joined select developed markets (DMs) such as the US, UK and Germany to record new all-time highs.
Among emerging markets (EMs), Brazil is the other market to have logged new highs this month.
Asian peers such as South Korea, Taiwan and New Zealand are currently between 2 per cent and 10 per cent below their previous highs made earlier this year.
The domestic markets were among the worst-performing major global markets in April amid a lethal second-wave of covid-19 infections.
However, they have bounced back sharply in May amid decline in infections and optimism surrounding sharp recovery in the economy as well as corporate earnings have buoyed sentiment towards the domestic equities.
"The confluence of factors such as bending of the Covid-19 Wave 2 curve and easing of the US hyperinflation phobia in recent weeks has helped bridge the underperformance of Indian equities.
"The benchmark Nifty is at an all-time high. The year to date gain of 11 per cent, is similar to that seen in advanced economies," said Dhananjay Sinha, Head – Strategist & Economist, JM Financial.
Benchmark indices of the US, UK and Germany are up between 12 per cent and 13 per cent on a year-to-date basis.
"We anticipate the remaining gap to close further with a Nifty target of 17,500 in the next 12-18 months (15 per cent upside from now).
"While outperformance in 2020 has elevated India to expensive valuations akin to those of DMs, it is not out of sync with recent historical averages," added Sinha.
Experts say overseas investors have shifted focus back to India as the spread of covid-19 has hit other Asian countries, which were unscathed last year.
"India has done well because we got more inflows. A lot of Asian markets saw outflows that could be partly to do with chip shortages in Taiwan and South Korea.
"Taiwan too had a severe lockdown. Cases have dropped in India rapidly. India is seen as a growth market.
"Moreover, the retail participation in India is also boosting the markets," said Andrew Holland, CEO, Avendus Capital Alternate Strategies.
Global brokerages such as UBS and Morgan Stanley have said India remains their most-preferred market in the EM space.
"The earnings momentum has been quite resilient and the policy momentum quite focused towards improving the infrastructure and attractiveness in the global supply chain," said Daniel Blake, Asia and emerging markets strategist, Morgan Stanley.
The brokerage expects India's earnings growth to see a huge jump in 2022, which will bring down the price-to-earnings multiples.
However, the surge in the markets has also made many skeptical as it has come at a time when the economic activity has seen a slump due to the measures taken by various state governments to curtail the second wave.
This has prompted economists and analysts to scale back the growth projections for the ongoing financial year.
"India's real growth would take a knock of 3 per cent in first quarter, implying 100 basis points downside to FY22E growth at 9 per cent… there is high probability of earnings downgrades even for FY22E and FY23, we believe there would be little impact on markets at the aggregate level as stronger companies would keep getting valued higher," said Sinha.