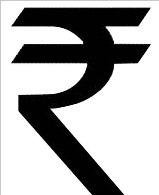 Indian currency notes will soon bear the rupee symbol. It will also have extra security features.
"With a view to check this menace of fake currency, introduction of security features in all denominations of bank notes is under way," Finance Minister Pranab Mukherjee said.
He said currency notes with the new rupee symbol approved by the Unicode Standard Authority will be introduced soon.
A new series of coins with the rupee symbol will also be unveiled in July.
Last year, India adopted a unique symbol for its currency. It is a perfect blend of Indian and Roman letters: a capital 'R', and Devanagari 'ra', which represents rupiya, to appeal to international and Indian audiences.