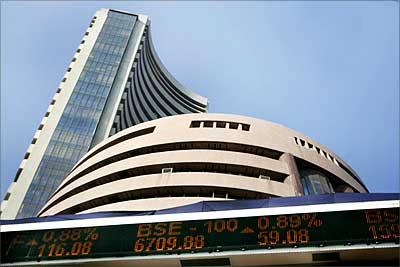 Patriotism amongst Indians is touching a high, according to an online survey conducted by The Nielsen Company, with 89 per cent of the respondents wishing to be reborn as an Indian if they were given a choice.
As India celebrates its 60th year of independence, Nielsen conducted an online survey to find out what Indians think of their homeland and its future.
According to the respondents, areas in which India has made drastic progress in the last few decades are business and commerce (57 per cent), science and technology (43 per cent), and education (19 per cent). 
However, while Indians feel that the nation has made significant progress, they also feel that it has not resulted in better quality of life for them. Only 15 per cent of the respondents to the survey felt that their quality of life has improved.
There are areas, which need a lot of attention according to the respondents. They listed politics as the "least progressed" fields in India since independence.
Eighty-two per cent of respondents felt that corruption needs to be tackled in order to improve politics, while 50 percent felt that lack of education among politicians was the primary cause of bad politics in India.
Poverty eradication programmes and law and order followed politics as the least progressed areas.
Sports is another field, where respondents felt the country had done badly, with a paltry 1 percent of the respondents feeling that India has made progress in sports.
More than 50 per cent of the respondents feel that political interference and inadequate sports infrastructure is the reason for the poor performance of India in sports.
Poverty eradication
Poverty eradication is the most important measure to drive India's development in the future according to 65 percent of the Indians surveyed. Infrastructure and transportation along with improved law and order conditions come as close second with a respective 64 per cent respondents voting for it. About 62 per cent feel that the local education system needs to be uplifted if India has to reach the status of a developed country.
Globalisation
Globalisation is a hot topic for many Indians and there is a lot of public debate surrounding it. A majority (63 per cent) of the respondents think that globalisation has been beneficial. Better employment opportunity is perceived to be the biggest benefit of globalisation.
Seventy eight per cent of the respondents think that it will give them better opportunities in India as well as abroad. Over 60 per cent of the Indians surveyed feel that globalization will provide greater exposure to new technologies, improve the standard of living and the state of infrastructure in the country.
Less than a quarter of the respondents see more harm from globalisation than benefit. The biggest concern for them is the harmful effect that globalisation will have on local industries. As many as 62 per cent of the respondents feel that local industries may perish due to globalisation. About 60 per cent think that globalisation will adversely impact farmers and agriculturists. Half the respondents (51 per cent) were more worried that globalization will lead to loss of Indian values and culture.
Regarding the pace of globalisation, 54 per cent feel the pace is just right, 35 per cent feel India is opening up too fast, while 11 per cent feel the pace of globalisation has been too slow.
Why they love India?
Fifty percent of the respondents cited the rich Indian culture as the most endearing fact about their country. The recent election of a woman as the president of the country was also cited as something to be proud of.
The second most important factor that Indians feel good about is the freedom and democratic spirit of India. Nineteen per cent of the respondents like to live in India for the freedom that they enjoy in the country.
Interestingly the minority 11 per cent, who do not wish to be reborn as Indians, comprise mainly of youth aged between 15 to 24 years.
Photograph: Sajjad Hussain/AFP/Getty Images