At a time when the Indian growth story has taken a beating, Union home minister on Thursday said growth will go back to docking eight per cent once the current steps being taken by the government start showing their impact.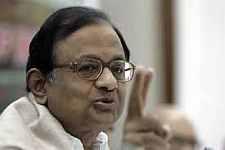 "Once we address the causes which have led to the fall in savings and investment, and the Prime Minister addresses the issues as finance minister, investor sentiment will improve," P Chidambaram said here on Thursday.

Explaining this, Chidambaram said that India as a country has a propensity to save, strengthening the base of the economy. Beside this, he said, the fall in investor sentiment has meant that many companies have cash reserves which are not being invested.

"Corporates and PSUs are sitting on piles of cash which are not being invested. Once the Prime Minister addresses the issues, growth will
bounce back," the former finance minister explained.
The Indian growth story is facing flak internationally because of rising inflation, depreciating rupee and perception of policy paralysis, all of which have pulled the current growth rate down to 6.9 per cent from 8 per cent a couple of years back.
Chidambaram along with Union telecom and human resource development minister, Kapil Sibal, held a press conference in Kolkata as part of a series of conferences being held by the group of ministers (GoM) to showcase the UPA-II achievements.
"Even during UPA-I when the world was in the throes of a crisis, we grew at 8.5 per cent. Now the Euro zone crisis is again upon us, but the fundamentals will pull the economy through," said Chidambaram.
Sibal further justified the strengths expounded by Chidambaram to reiterate that in 2011-12, saying that investments in India touched $46.85 billion, an all time record.