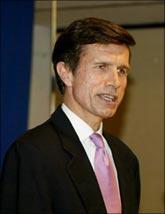 The Obama administration's point man for South Asia, Assistant Secretary of State Robert O Blake, has predicted a meeting of minds between the United States and India on the contentious issue of climate change during the summit between President Barack Obama and Prime Minister Manmohan Singh on November 24.
Blake, who was the main speaker at a discussion on the expectations of the summit co-hosted by the Asia Society and its partners Bridging Nations, George Washington University and the Center for Strategic and International Studies in Washington, DC, said there would also be announcements about US-India agreements on agriculture, education and bilateral trade and investment.
Saying that the issue of energy and climate change would be a major item of the summit agenda, the senior US official said "it's very important that India and China and other important developing countries work with us to achieve a successful outcome in Copenhagen."
He acknowledged that "India only emits about 4 per cent of the world's greenhouse gases, but the Indian economy is growing very rapidly now and as that expansion continues, its greenhouse gases are projected to increase by 50 per cent over the next 20 years."
"You'll see during the course of this visit, we'll have some important deliverables to announce in the area of energy and climate change," Blake said.
When Environment Minister Jairam Ramesh visited the US recently, he predicted that climate change would be on the agenda when Dr Singh visits Washington for his first official visit during the Obama administration's tenure.
"I can assure you that India will not be a deal breaker, India will be a deal maker," Ramesh had said then, thus stilling apprehension that India, along with China, might resist global efforts at the Copenhagen summit.
Blake said on Monday that "climate change is going to have a very significant impact in India," and pointed to "recent studies that have shown that if their current climate change projections continue, that South Asia will be the most seriously affected of all regions in the world."
He said it would potentially seriously impact food production. "So, there is a particular urgency for us to work together on climate change and agriculture because than can really benefit the large rural majority in India that is such an important part of India's future and the security of India's future," he argued.
Blake said in the area of agriculture too, "we'll have some announcements to make" during the prime minister's visit.
He said another area where there would be likely announcements of cooperation between the US and India would be in the area of education and development and declared that "this is going to be one of the most significant parts of what we are working on together in these next couple of years."
Blake said that in all of these areas, "the Obama administration would really like to do much more to try to engage the private sector, both in public-private partnerships, but also in advising and working with both governments, to see how we can make the private sector portion bring the private sector: to the fore in all of these dialogues."
"Traditionally, the private sector has been mostly engaged on the economic side of things as you might expect in trying to promote trade and investment. But we now really have an opportunity to work in some of these new areas like energy, education, and science and technology," he said.
He also disclosed that the membership of the US-India CEO Forum set up during the Bush administration "has been changed on both sides to reflect some of these new opportunities and some of the new agenda that we will be working on."
Blake said the CEO Forum would meet on the margins of the summit next week between Obama and Singh, "and they will also have a brief meeting with President Obama and Prime Minister Singh."
Earlier, he said that Dr Singh's visit was "notable because it is the first state visit by any foreign leader in the Obama administration and there's a reason for that and that is, we want to take our strategic partnership with India to the next level."
Blake also spoke of how Dr Singh had "courageously staked how own government on the civil nuclear initiative last year and so it's clear that he attaches great importance to relations with the United States."
In this regard, he said, "the Obama administration is fully committed to the civil nuclear partnership and we are firmly committed to moving forward on that as quickly as possible."
Image: US Assistant Secretary of State Robert O Blake