Finance Minister Pranab Mukherjee and US Treasury Secretary Timothy Geithner signed an agreement on Tuesday to launch a comprehensive economic partnership to boost their bilateral engagement, with key focus on micro-finance and infrastructure development.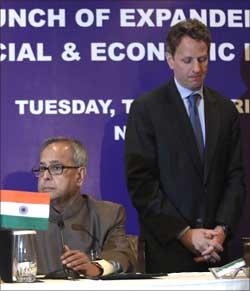 The agreement, similar to the one the United States has with China, comes days after Geithner delayed publication of an annual currency report for which US legislators had demanded that China be named a currency manipulator.
United States Congressmen have argued that Beijing deliberately holds down the value of yuan to boost Chinese exports. Geithner has sought to nudge the Chinese to revalue the yuan by pegging it to a basket of currencies but, according to Chinese analysts, the value of the yuan will be determined by China's domestic economic compulsions and not US pressure.
Geithner, who spent five years of his childhood in India and has a reputation as an achiever, has publicly stated his appreciation for the way India has managed its economy to swiftly tide over the worldwide recession and maintain a high growth rate.
The US has begun to emerge from the recession, recording growth levels over the past three quarters, but unemployment levels remain unacceptably high, so the Obama administration is looking to generate employment through large-scale spending on infrastructure and healthcare.
The launch of the US-India Economic and Financial Partnership on Tuesday is significant because the two countries have traditionally been wary of opening up their markets and services to each other.
It took almost 20 years for the United States to lift a ban on imports of Indian mangoes, for example, and the civil nuclear cooperation deal, which would allow energy-deficient India access to not only nuclear but a host of advanced technologies, has still not cleared all the legal hurdles.
Increasingly, US companies are looking to the Indian market to expand their profiles.
After meetings with Prime Minister Manmohan Singh and Mukherjee, Geithner sought more widespread economic engagement with India, saying the ability of the US and India to cooperate was critical to creating a more stable global financial system.
The two countries have been closely cooperating within the G-20 format.
"Our ability to cooperate on economic financial issues will be critically important to the success of global efforts to create conditions for a more stable global financial system... a more open global trading system," Geithner said, adding that President Barack Obama remains committed to strengthening US' relationship with India, which he said was "an indispensable partner in securing the future prosperity and security of the world."
In a statement at a joint press interaction with Mukherjee in New Delhi Geithner said, "We face many challenges in common, such as how... to extend financial services more broadly to people outside the traditional banking system, how to finance our very substantial public infrastructure needs... and effectively leverage private money."
Singh has said India would need to spend $1 trillion for infrastructure development in the next plan period between 2012 and 2017. The US has separately been demanding greater access to the Indian financial services market, including insurance - which could help fund infrastructure development. At present, foreign direct investment in India's insurance sector is capped at 26 per cent.
"The discussion held today focused on global development with a special emphasis on US and Indian economies including monetary and fiscal policies, financial sector regulations and managing capital flow, infrastructure finance and Public Private Partnership," Mukherjee said, emphasising that talks focused on three broad areas --
micro economic policies, financial sector and infrastructure finance, with a commitment to hold an annual meeting.
Today's partnership agreement "envisions annual Cabinet level meeting at finance minister and US treasury secretary level," Mukherjee said, to be "supplemented by sub-Cabinet level meeting and meeting of the working groups."
Image: Finance Minister Pranab Mukherjee (L) and US Treasury Secretary Timothy Geithner attend their joint media conference in New Delhi April 6, 2010. | Photograph: Adnan Abidi/Reuters