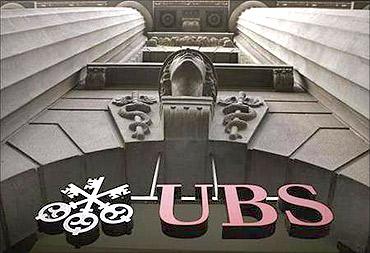 Switzerland will not share details about accounts held prior to September 2018.
In a big step towards fighting black money stashed overseas, Switzerland on Tuesday agreed to automatic sharing of information with India on Swiss bank accounts of Indians as of September 2018 and onwards.
They will not share details about accounts held prior to that period, while the first such exchange will happen in September 2019.
The 'Joint Declaration' for implementation of Automatic Exchange of Information signed on Tuesday between India and Switzerland provides that both countries will start collecting data in accordance with the global standards in 2018 and exchange it from 2019 onwards.
While Switzerland has conformed to the global standards on automatic exchange of information with the signing of the declaration, India, on its part, has promised to safeguard the confidentiality of the data.
'It will now be possible for India to receive from September, 2019 onwards, the financial information of accounts held by Indian residents in Switzerland for 2018 and subsequent years, on an automatic basis,' said a Finance Ministry statement.
Describing the signing of declaration as a 'big step', Revenue Secretary Hasmukh Adhia tweeted: 'The income tax department will be able to obtain information from accounts of all Indians stashed in Switzerland from 2018 onwards.'
The Swiss Federal Department of Finance said in a statement that the signing of the joint declaration with India confirms Switzerland's international commitment to implementing the AEOI standard.
'Switzerland is thus strengthening its network of AEOI partner states. India meets in particular the high demands in terms of adherence to the principle of speciality and the safeguarding of confidentiality for the data delivered, which are prerequisites for the introduction of the AEOI,' it said.
Switzerland, which has always been at the centre of the debate on black money allegedly stashed by Indians abroad, used to be known for very strong secrecy walls till a few years ago around its banking practices.
A huge global pressure has resulted in Switzerland relenting on the tough secrecy clauses its local laws gave to the banks. Several information requests on details about Indians who had accounts in Swiss banks are still pending.
Tuesday's declaration, however, does not talk about exchange of information based on stolen data or pending requests from India.
Following the government's demonetisation of high value currency notes earlier this month as a crack down on domestic black money, some opposition parties have been demanding that the government take action to bring back the unaccounted Indian money stashed abroad, particularly in Swiss banks.
The Switzerland Department of Finance said the automatic exchange of information with India will be implemented based on the Multilateral Competent Authority Agreement on the Automatic Exchange of Financial Account Information.
The MCAA is based on the international standard for the exchange of information developed by the Organisation for Economic Co-operation and Development.
The Swiss Federal Council has authorised the Federal Department of Finance to conduct a consultation for the introduction of the AEOI with India and other countries.
'It will be initiated soon. Thereafter, the corresponding federal decrees will be submitted to Parliament for approval,' it added.
In a significant step in the continuing global efforts to crackdown on illicit fund flows in the system and do away with banking secrecy practices, Switzerland had in September ratified the multilateral convention on administrative assistance in taxation matters.
The Indian finance ministry's statement said fighting the menace of black money stashed in offshore accounts has been a key priority area for the present government.
The Joint Declaration for implementing AEOI was signed on Tuesday by Central Board of Direct Taxes Chairman Sushil Chandra and Deputy Chief of Mission of Swiss Embassy Gilles Roduit here in India.
On June 6, Prime Minister Narendra Modi had met Swiss President Johann Schneider Ammann at Geneva and discussed the need for expeditious exchange of information for combating tax evasion together with an early start to negotiations on the Agreement for Automatic Exchange of Information.
As a follow up, Adhia and Switzerland's State Secretary for International Financial Matters Jacques de Watteville met on June 15 and agreed to move towards an early agreement for the implementation of AEOI between the two countries.