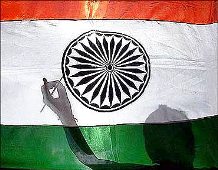 India's services sector grew at its slowest pace in one and half years during the last month, as costs for raw materials, petrol and labour increased considerably, a survey said on Monday.

The pace of hiring by private sector companies was also slowest in seven months, as per a monthly HSBC India survey of services sector managers.

However, the executives expressed optimism about improving trends in the coming months, HSBC said.

The HSBC India Composite Output Index fell to 50.5 in April from 51.4 in March.

"The latest reading indicated that activity increased marginally and at the slowest pace since October 2011," it said.

Meanwhile, the seasonally adjusted HSBC Business Activity Index declined to 50.7 in April from 51.4 in the previous month.

Input prices witnessed further increase in April -- the trend continued for the 49th consecutive month -- and cost of raw material, petrol and labour were higher, HSBC noted.

"The
rates of increase in average selling prices were slower at both manufacturers and service providers. . . Companies operatinig in the Indian service sector remained optimistic towards output growth in the short term," it added.
Even though new businesses placed at services and manufacturing firms in India increased last month, the rates of expansion eased.
The manufacturers cited power cuts while service providers mentioned extreme weather and challenging market conditions for such a trend, the report said.
While staffing levels in the private sector rose during April, the rate of job creation was 'modest and the slowest in the current 14-month sequence of hiring'.
Growth in payroll numbers eased in both manufacturing and service sectors.
"Activity in the service sector decelerated further in April led by slower growth in new business.
"This led to a slowdown in employment growth and allowed businesses to better keep pace with their order book," said Leif Eskesen, Chief Economist for India and ASEAN at HSBC.