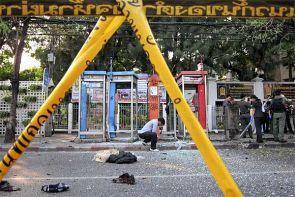 Thailand has prepared a list of 291international terrorists and terrorist organisations to be banned from conducting financial transactions in the country, a senior official said on Tuesday.
The terrorist blacklist was obtained from the UN Security Council, according to Anti-Money Laundering Office secretary-general Seehanat Prayoonrat.
The announcement is aimed at convincing the Paris-based Financial Action Task Force that the country is cracking down on money laundering and terrorist financing activities.
The black list of terrorists includes only foreign groups and individuals, it comprises 227 individuals and 64 organisations, Seehanat said.
After the announcement by Justice Minister Pracha Promnok, the government will report its action to the Asia/Pacific Group on Money Laundering (APG) in Sydney.
The FATF is the global body that sets standards for anti-money laundering and terrorism finance laws.
In February last year, the FATF named Thailand as one of 15 countries on its dark-grey list due to its failure to take adequate steps against money laundering and terrorist financing.
The FATF in February agreed to upgrade Thailand's status from dark grey to grey following the passage of two bills to amend the Anti-Money Laundering Act and the Anti-Terrorism Act.
Thailand hopes the changes in the laws will help convince the FATF to remove Thailand from its watch list.
The FATF will send a team to visit Thailand next month to evaluate the measures and how well they are being enforced.
Thailand says its removal from the list would be a big boost as it prepares to join the ASEAN Economic Community in 2015.