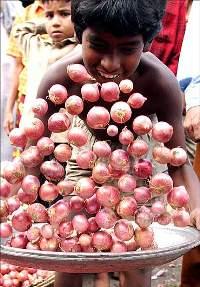 India on Tuesday set a minimum export price for onions of $300 per tonne to discourage overseas shipments amid an inflation scare that threatens to stoke public anger over rising prices at local food markets.
Prime Minister Narendra Modi has made tackling inflation his top priority after widespread resentment about rising prices contributed to the exit of the previous government last month.
After wholesale price inflation accelerated to a five-month high in May, the new government imposed the price rule on onions three months after the previous administration withdrew it.
Until early March, the minimum export price was $150 per tonne.
Indians consume about 15 million tonnes of onions a year, using them as the base for curries and traditional dishes such as biryani and bhaji. In the past, higher onion prices have contributed to the fall of state governments.
India exports about 1.5 million tonnes of onions a year. Fears of domestic shortages have been fuelled by a scorching summer, a lack of chilled storage and a threat of strike action by distribution workers.
Finance Minister Arun Jaitley said in a post on Facebook late on Monday that the rise in prices of fresh produce could be due to withholding stocks on fears of a weak monsoon. He vowed to crack down on "speculative hoarding".