India has got the money and workforce, but no Indian firm has so far decided to do it
It is very much possible for large airplanes to be manufactured in India, although it will take a long time because requirements are huge for capital, skills and infrastructure, top aircraft maker Boeing has said.
The $105-billion global giant also said that the government's 'Make in India' programme has become a major incentive for the foreign investors and every company wanted to be associated with it because of Prime Minister Narendra Modi's personal involvement in this initiative.
Stating that India is on the right track and it needs to gradually move up, senior Boeing executive Dinesh Keskar said that the country and the companies there would need to consistently develop the skill-set and other necessary requirements to get to a stage of making large planes.
He was replying to a query on whether large airplanes like Boeing 787 can ever be made in India.
"That will be a long time. Even China which is way ahead in manufacturing is still not doing it. It takes three things -- a huge amount of capital, a highly skilled labour force and top-end facilities," Keskar told PTI in an interview in Paris.
"Boeing bets its big every time it builds a new plane. You need billions of dollars," said Keskar, senior vice president for Asia Pacific and India sales at Boeing Commercial Airplanes. He was in Paris for the International Air Show, which concluded this weekend.
Explaining further, the aircraft industry veteran said, "You need an amazing amount of skilled labour who knows how to build different systems and integrate it all together.
"Today, there are only two companies, Boeing and Airbus, who know how to do this. Others are making smaller planes. So, money, skills and facilities are the three things we need."
The Boeing executive said India has got the money and workforce, but no Indian firm has so far decided to do it.
"Even the smaller airplanes are not being made so far. I think we should start with 50-seaters or 100-seaters and then look at the bigger ones. That is how it can work," he said.
Rival Airbus India managing director Srinivasan Dwarkanath also said it was very much possible for India to manufacture large planes over the years.
Giving example of the proposed replacement for the Indian Air Force's Avro aircraft fleet, he said it would be "totally made in India".
"I don't see a reason why it (manufacturing of large aircraft) cannot happen in India," said Dwarkanath, who was also in Paris for the Air Show.
Indian defence systems firm OIS chairman and managing director Sanjay Bhandari said: "With the sustained support of government policies, where it looks to the private sector for advanced products and technology solutions, it should be able to manufacture, design and develop advanced technology over the foreseeable future."
Keskar said Boeing itself is doing many things in India by way of procuring parts and components for its airplanes.
"This is like teaching India about eventually how to build an airplane. For our 787-9, the floor beams have been made by Tatas in Nagpur. A lot of flight control testing was done by HCL in Chennai.
"These people can help anybody who would want to build an airplane because we have already taught them how to do it. They have spent millions or hours with us and in the process, they have learnt the technology. So, we have done our technology transfer for them," Keskar said.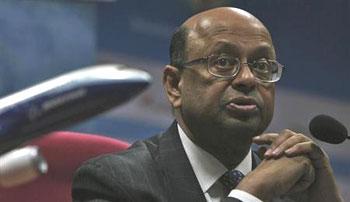 As India was already making the machine parts, Keskar (left) suggested it can move further to smaller assemblies and sub-assemblies and then it can go for larger assemblies.
"That's how you can gradually move up the chain. You are on the right track, but even Japan took 45 years just to build wings and even today they have not built the big planes, but finally they have now managed a 100-seater after all these years.
"Probably 40 years would be a good guess for India also to get to a stage, but it will have to consistently develop to begin manufacturing large planes.
"It can certainly happen in India. We have enough people to do it," he said, while giving examples of Tatas and Mahindras who are doing a lot in the aerospace sector with their own Make in India initiatives.
"We have worked with Tatas, Infosys, Wipro, HCL and many other marquee companies. We are doing things that will help Indians to design airplanes and build airplanes, but that is going to take time," Keskar said.
On the government's Make in India campaign, he said that Boeing and many other companies have been already doing it for a long time, but things would continue to get better.
"In 2005, when we gave a contract to HAL, it was our Make in India. The new campaign has given it a new structure and it helps when someone is monitoring.
"I am a firm believer in what gets measured, that gets done. If somebody is looking at it, it helps to deliver...It all depends on how you build the incentive structure.
"The Make in India has become an incentive for the foreign companies to say that I want to be part of this, because there is an involvement of the Prime Minister.
"Until now, we didn't have that kind of involvement which is there today and that is helping to get the things done. Even five years ago, things were getting done, but not with the same intensity and not with the same enthusiasm. That's the difference now," he said.
Keskar said that the foreign companies realise that India is a big market.
"They need a play there and they would get a play only if they are seen as someone doing what the Indians want and that includes technology transfer, doing production, increasing the pace of manufacturing in India and create jobs in the case of Make in India.
"If you do any of these things, jobs get created automatically. When you do Make in India and when you build even small components in India, the jobs including high-tech jobs indeed get created," he said.