Metal, realty firms to pull down earnings; banking, consumer goods companies will do well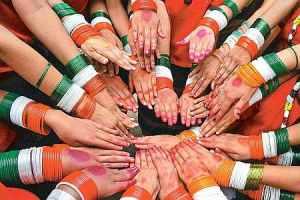 As Infosys kicks off the December quarter results season on Friday, India Inc seems resigned to a tepid show.
Most analysts expect growth in the sales of Nifty-50 companies to decelerate, albeit marginally, in the quarter ended December compared to the corresponding period of 2013-14, with metals and real estate companies pulling down earnings.
Profit gains could also be limited.
Analysts from five leading brokerage houses and rating agencies said Nifty-50 companies were expected to report a 1.75 per cent decline in sales growth and a marginal rise in profit at 1.44 per cent for the December quarter, on a year-on-year basis (see chart).
The picture worsens if a wider canvas of companies is considered.
In a preview of 600 listed companies, ratings firm CRISIL said revenue growth would fall to seven per cent year-on-year due to the slow pace of investment, subdued growth in export-oriented sectors and soft commodity prices.
"Investment-driven sectors will drag down growth.
For example, volume growth for the top 15 cement companies, accounting for 55 per cent of industry volumes, will decelerate to five per cent in the third quarter from nine per cent in the first half of the year," said Prasad Koparkar, senior director of CRISIL Research.
On the other hand, despite softer crude oil prices, profitability gains could be limited for companies whose raw materials are linked to the crude chain, owing to losses booked on inventory procured earlier.
Central power utilities, coal, information technology, complex fertiliser and paper companies were expected to report lower margins, CRISIL said.
Dhananjay Sinha, institutional research head at Emkay Global Finance, said the combined impact of fiscal tightening and slowing global growth was likely to impact corporate performance in the third quarter, which could possibly overweigh potential gains from declining commodity prices and modest weakening in the rupee-dollar exchange rate.
Analysts said capital goods manufacturers, who continued to grapple with weak order inflows, were likely to report a nine per cent year-on-year decline in revenues.
While construction companies might report an uptick in revenue growth, overall growth is likely to lag the aggregate revenue growth of corporate India.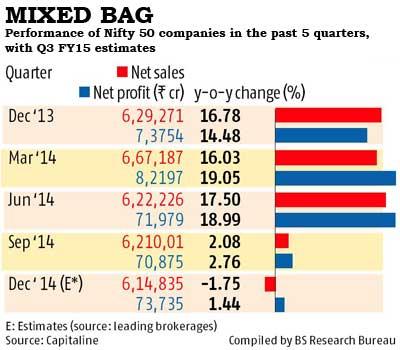 CRISIL foresees an uptick in earnings before interest, tax, depreciation and amortisation margins.
It says aggregate margins for the quarter could improve by 25-50 basis points.
Others have a more optimistic view on sales and profit fronts.
"Frankly, I do not foresee much change on the ground between the September and December quarters.
"Barring the fall in crude oil prices, the December quarter results will not be much different from the previous quarter, in terms of earnings.
"For IT companies, dollar earnings are expected to be below expectations, as the US currency has appreciated against all currencies.
"There could be a downward revision of dollar forecast from Infosys tomorrow (Friday), followed by others," said P Phani Sekhar, fund manager (portfolio management services), Karvy Stock Broking.
Analysts at Kotak Institutional Equities Research expect automobile companies to see muted quarter, with revenue growth of five per cent on a year-on-year basis and profit growth of two per cent.
While Bajaj Auto and Mahindra & Mahindra are likely to report a sharp decline in net profits, Hero MotoCorp and Maruti Suzuki are likely to report strong earnings growth.
Analysts say cross-currency movements will play an important role for the pharmaceuticals sector.
They expect domestic formulation growth to be strong, with US sales continuing to drive overall revenue growth.
But Dr Reddy's will be impacted negatively, due to its currency exposure to Russia.
Analysts expect banking companies and consumer products makers such as Hindustan Unilever to fare well.
The net profits of banks might grow a strong 28 per cent, primarily due to higher contribution of treasury income.
For consumer product companies, analysts estimate revenue growth of 11 per cent, similar to the past several quarters. They expect volume growth to be soft for these companies.
Among oil marketing companies, analysts expect Bharat Petroleum Corporation and Hindustan Petroleum Corporation to report modest profits, assuming zero underrecoveries and higher core refining margins.
While Indian Oil Corporation will report losses due to higher write-downs on inventory of crude oil bought at higher prices, India's largest private firm, Reliance Industries, will report lower profitability on a quarter-on-quarter basis, as robust conversion margins will be offset by inventory losses.