Adjusted for inflation, the earlier scheme would have collected Rs 25,000 crore.
Dilasha Seth/Business Standard reports.
Illustration: Uttam Ghosh/Rediff.com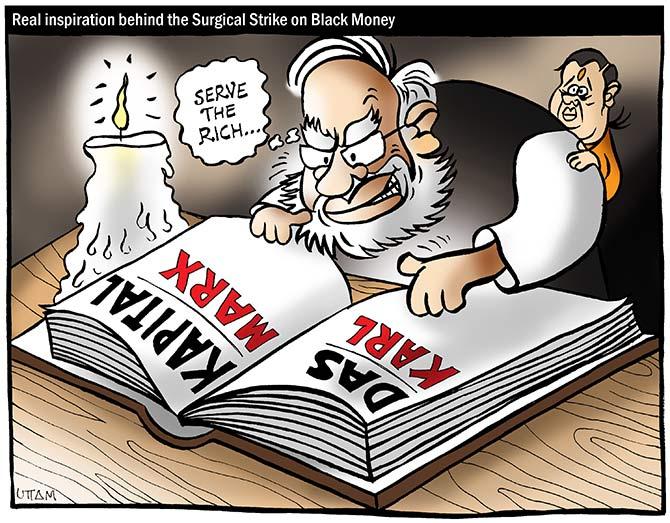 Union Finance Minister Arun Jaitley's Income Declaration Scheme (IDS) 2016 will collect a little over Rs 30,000 crore (Rs 300 billion) in taxes, whereas former finance minister P Chidambaram's Voluntary Disclosure of Income Scheme (VDIS) in 1997-1998 garnered around Rs 10,000 crore (Rs 100 billion) in taxes.
Adjusted for inflation, the earlier scheme would have collected Rs 25,000 crore (Rs 250 billion), according to Soumya Kanti Ghosh, chief economist, State Bank of India.
This works out to an inflation rate of 5% a year for the last 19 years.
The tax rate, including cess and penalty, in this year's income disclosure scheme was higher at 45% against 30% for individuals and 35% for companies in 1997-1998.
Assuming mostly individuals availed the VDIS in 1997-1998, the scheme would have garnered Rs 37,500 crore (Rs 375 billion) for the exchequer in today's rupees if the tax rate were 45%.
The 1997-1998 scheme saw disclosures worth Rs 33,679 crore (Rs 336.79 billion), which in today's rupee terms work out to about Rs 84,000 crore (Rs 840 billion).
About 475,000 individuals and companies had disclosed their unaccounted wealth and income in the scheme.
In 2016, the government received declarations from 71,726 individuals worth Rs 67,382 crore (rs 673.82 billion).
The tax under IDS 2016 is to be paid in three installments till September 30, 2017.
The tax department has rejected two disclosures in this year's scheme: Rs 13,500 crore (Rs 135 billion) by a businessman in Ahmedabad and Rs 2 lakh crore by a family in Mumbai.
Jaitley had earlier refused to compare tax collections under the two schemes, stating many assessees had paid tax in advance during the 1997-1998 scheme because the scheme's tax rates were the same as normal rates.
The government has come out with another income declaration scheme, the Pradhan Mantri Garib Kalyan Yojana, following demonetisation, allowing declarers to pay a 50% tax on undisclosed income and depositing a quarter of the amount for four years.
"We have had several of these schemes, giving tax evaders the confidence that they will get away easily because enforcement is not good. But there will be little option under the demonetisation disclosure scheme and a higher amount may come in," said Neeru Ahuja, partner, Deloitte Haskins Sells.