The Indian Institute of Technology, Kanpur has planned to set up a 550 kilowatt  Solar Energy Research Experimental Station in its campus.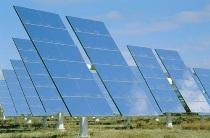 The station would serve the purpose of solar energy development research apart from a pilot project for improving the commercial viability of solar energy generation.
 
It would provide uninterrupted free power supply to six neighbouring villages, Nankari, Bara Sirohi, Singhpur, Bakunthpur, Naramau and Kachchar.
The villages are electrified, but the present power supply is highly erratic. The work for setting up the plant will begin within six months and is expected to complete within four years.
 
The Rs 18-crore (Rs 1.8 million) project has been taken up as a part of the ongoing golden jubilee celebrations at the institute.
The project has already received the IIT Board's nod, and a 11-member team headed by Professor D B Singh has been constituted to work out the details.
According to, Sanjay Govind Dhande, director, IIT-Kanpur, the cost of the project will be borne jointly by the Department of Science and Technology and IITK.
 
Currently, the solar power produced in India costs around Rs15 per Kw hour, whereas conventional energy costs as little as Rs 3.5 per Kw hour.
The institute will bring in  team from the biotechnology, electrical departments to work on reducing the production cost of solar power to make it more economical and commercially viable.
 
According to Dhande, the project will be modelled on the German mode of solar power generation after conducting the requisite studies on production and transmission. The land has been identified at Shivli Road, near the institute, for setting up an energy distribution centre to supply power to the villages.
 
Dhande, said there is an acute power crisis in many parts of the country, and the onus to explore renewable and non-polluting energy sources rests on the research centres like the IITs.
 
Since solar energy is expensive than thermal or hydro energy, he said, "Through this project, we will undertake research on reducing the cost of solar energy so that it can become affordable for people." The 500 Kw plant will be sufficient to provide electricity to the six villages, he added.
 
A number of activities, including the launch of nano-Satellite 'Jugnu', have been planned to mark the golden jubilee year and will continue until December 2010.
 
Founded in 1959, IIT-K has produced over 24,000 meritorious students working worldwide since its inception.