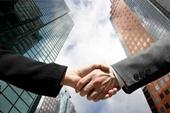 After acquiring United Western Bank three years ago, IDBI Bank is now once more on the prowl for acquisitions.
The bank has identified two Indian lenders as possible acquisition targets, its Chairman and Managing Director Yogesh Agarwal told reporters.
While he would not divulge the identities of the two banks, Agarwal said talks were on between them and IDBI Bank.
The move assumes significance as the Central Government is understood to be inclined towards consolidation in the Indian banking sector.
Agarwal said his bank does not need to raise funds for an acquisition but may look at capital raising to finance its business growth.
Agarwal said the bank has dropped its earlier plan to sell its Pune-based home loan subsidiary, IDBI Home Finance Ltd. "It is not on our radar now (sale of IHFL)...it will continue as it is," he said.