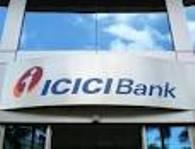 Private sector lender ICICI Bank on Friday reported 25 per cent jump in its consolidated net profit for the quarter ended June 30 at Rs 2,077 crore buoyed by increase in advances and higher net interest income (NII).
The bank had clocked Rs 1,667 crore net profit during the April-June quarter of the last fiscal, it said in a BSE filing.
Total income of the bank rose to Rs 16,640 crore during the reporting quarter from Rs 14,750 crore a year ago, riding on higher advances.
Advances of the bank rose by 22 per cent to Rs 268,430 crore, as on June 30, 2012 from Rs 220,693 crore a year ago. Deposits also grew by 17 per cent to Rs 77,923 crore.
Registering an increase of 32 per cent, NII of the bank rose to Rs 3,193 crore from Rs 2,411 crore in the April-June quarter last year. NII is the revenue banks earn from interest on lending.
Net interest margin also went up by 0.4 per cent (40 basis points) to 3.01 per cent from 2.61 per cent a year ago.
Net non-performing asset ratio, however, decreased to 0.61 per cent, as on June-end, from 0.91 per cent in the year ago. The capital adequacy ratio stood at 18.54 per cent at the end of the reporting quarter.
On standalone basis, ICICI Bank's net profit rose to Rs 1,815 crore, up 36 per cent from Rs 1,332 crore a year earlier.
Shares of the bank were trading at Rs 927.80 in the BSE during the afternoon trade, up 2.30 per cent over the previous closing.