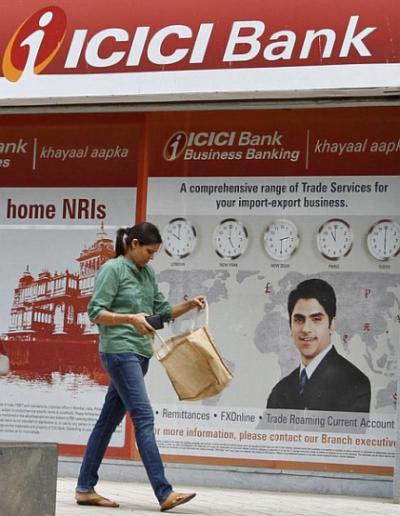 With addition of over 10,000 jobs last fiscal, ICICI Bank has overtaken rival HDFC Bank as the biggest employer in the private banking space with more than 72,000 employees.
Incidentally, HDFC Bank saw its employee headcount decline by 900 during the fiscal ended March 31, 2014, while at least five other major private sector banks saw their workforces grow during the year.
These five lenders - ICICI Bank, Axis Bank, Kotak Mahindra Bank, IndusInd Bank and Yes Bank - saw their employee strength rise by over 20,000 in 2013-14. HDFC Bank's headcount stood at 68,165 at the end of last fiscal, while that of ICICI Bank grew by 10,161 to 72,226 employees.
In 2012-13, HDFC Bank was the largest employer among private banks with 69,065 employees, as against ICICI Bank's 62,065 staff. ICICI Bank has also recorded higher total income and profits than HDFC Bank in the latest fiscal year. HDFC Bank posted total income Rs 50,852 crore (Rs 508.52 billion) and net profit Rs 8,743 crore (Rs 87.43 billion)for the year ended March 31, 2014.
On stand-alone basis, HDFC Bank's net profit for the year stood at Rs 8,478 crore (Rs 84.78 billion), while total income was Rs 49,055 crore (Rs 490.55 billion). In comparison, ICICI Bank's consolidated total income was Rs 79,563 crore (Rs 795.63 billion) and net profit at Rs 11,041 crore (Rs 110.41 billion).
It recorded total income of Rs 54,606 crore (Rs 546.06 billion) and net profit of Rs 9,810 crore (Rs 98.10 billion) on stand-alone basis.
An analysis of staff details provided by various banks in their respective annual reports shows that hiring activities picked up in the banking sector during 2013-14, as the total job addition by top five banks rose to close to 22,000, from about 15,000 employees added in the previous year.
The staff expenses have also increased for these banks, owing to increased staff strength. At the same time, the productivity ratios -- measured in terms of profit per employee and business per employee have also improved for most of these banks.
Even for HDFC Bank, profit per employee rose from Rs 10 lakh to Rs 12 lakh in 2013-14, while business per employee was up at Rs 8.9 crore (as against Rs 7.5 crore in previous year). For ICICI Bank, profit per employee has remained nearly flat at Rs 14 lakh, while business per employee rose marginally to Rs 7.47 crore.
However, it is Yes Bank which has maintained better productivity ratios than its bigger rivals. ICICI Bank added the maximum number of employees to its payrolls (10,161 net addition), while Axis Bank saw its headcount rise by 4,519 to 42,420 employees.
IndusInd Bank's headcount rose by 4,088 to 15,590 employees, while Kotak Mahindra Bank saw its headcount rise by 2,586 to 16,086. Yes Bank's staff count rose to 8,798 employees as on March 31, 2014 with a net addition of 1,774 people.