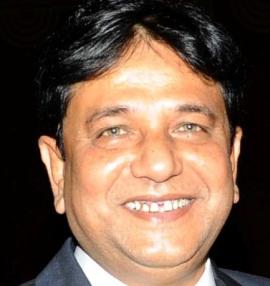 Sudipta Sen, the promoter and key accused in the Saradha scam, today said he would reveal 'everything' after investigations were over.

"Let the investigation get completed. I will reveal everything," Sen told reporters when asked about involvement of political leaders in the scam.

Sen was speaking to reporters in the premises of a city court, where he and close aide Debjani Mukherjee were produced on Thursday, at the end of 14-day police remand.

Bidhannagar police, which has been investigating the case, sought further police custody of Sen and Mukherjee in court.

Deputy Commissioner (Detective Department) Arnab Ghosh, who has been the chief investigator in the case, said, "We have got much valuable information from them. The investigation is on,"

However, he refused to share any further details.

The court extended police custody for Sen and Mukherjee by another nine days.

Earlier, while briefing the court about the investigation, the government counsel said there were many who were not part of Saradha officially, but on the company's pay-roll.

In his letter to the Central Bureau of Investigation before getting arrested, Sen had alleged that Trinamool Congress Rajya Sabha members Kunal Ghosh and Srinjay Bose had blackmailed him, and he was forced to pay amount hefty amounts to them.

Both had refuted the allegations.

However, the opposition -- Left and Congress -- have been alleging Sen's link with many more top leaders in the TMC and demanded a CBI probe into the matter.

Sen, others sent to custody

A PTI report said Saradha Group chairman Sudipta Sen and two others were today remanded to nine days police custody in fresh cases and 14 days judicial remand in earlier cases in the alleged multi-crore chit fund scam.

Sen, with Director Debjani Mukherjee and Arvind Singh Chouhan, who looked after the operations in Jharkhand, were produced before the court of Additional Chief Judicial Magistrate, who remanded them after the expiry of their 14-day police custody.

They were given nine days police custody till May 18 in fresh cases and 14 days judicial custody till May 23 in earlier cases.

The three had been booked under sections 406 (criminal breach of trust), 420 (cheating) and 506 (criminal intimidation) of IPC after they were produced in court on April 25, following their arrest from a hotel at Sonamarg in Kashmir on April 23.

Later, while being taken away from the court, Sen told reporters that he would speak after the investigation ended.

"I will speak. Wait for sometime.

"Let the investigation be over. I will speak," Sen said.

Sen had written a letter to CBI last month complaining of blackmail by 22 persons, including two TMC members of Parliament.
Image: Sudipta Sen