Environmental activists led by Medha Patkar have requested the Central Government to put the Hyderabad Metro Rail Project under "green scanner" as it may potentially cause harm to heritage sites and the Musi river in the city.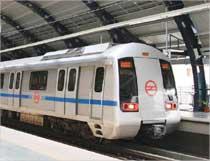 In a letter to Prime Minister Manmohan Singh, UPA chairperson Sonia Gandhi, and Union Environment Minister Jairam Ramesh, the activists expressed concerns over the negative impact of the project on Hyderabad's historic core areas and requested a public debate over the project.

"Being an elevated corridor through the busy streets of the core city, this project is going to deface and decimate the beauty of the city and erase its very historical character.

"This is the most expensive mega project thrust on the city, secretively pushed and least debated in the public. This is likely to become another scam in course of time and become a huge burden to the people of Hyderabad and Andhra Pradesh," the activists demanded.

The activists, who formed a banner under National Alliance of Peoples' Movements (NAPM) include four Magsaysay awardees in Aruna Roy, Rajendra Singh, Arvind Kejriwal and Sandeep Pandey, besides former power secretary EAS Sarma and former director of Centre for Cellular and Molecular Biology, P M Bhargava.

Infrastructure major Larsen & Toubro led consortium had secured the project in July last year in fresh bids called for by the Andhra Pradesh government after it cancelled the project originally awarded to Maytas Infra led consortium owing to its failure to execute the project.

Musi River is under the National River Conservation Program of the Ministry of Environment and Forests, the NAPM said in its representation.

The NAPM has also requested for a "thorough review of the feasibility of this project in economic terms vis-a-vis the alternatives available to improve public transportation."