The Western Ghats Ecology Expert Panel report, submitted by ecologist Madhav Gadgil last year, was further delaying the Rs 30,000-crore (Rs 300-billion) refinery project of Hindustan Petroleum Corp Ltd (HPCL) in Maharashtra, a senior official of the state-run oil marketing firm said. The project has already been delayed due to bureaucratic red tape.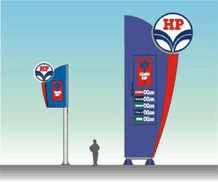 "We did not anticipate this delay. We were told the moratorium suggested by the Gadgil Committee will last only for a couple of months. But the government has been extending it. This is a big setback. We have finished the feasibility report and finalised the configuration. But we cannot acquire land till the environment clearance is in place," said the official, requesting anonymity.

HPCL, facing space constraint with regard to expansion at its Mumbai refinery, had in 2010 decided to set up a nine-million-tonne-per-annum (mtpa) refinery in Tavsal, Guhagar in Ratnagiri district of Maharashtra.

The company needs 3,000 acres. It had earlier decided to set up a refinery at Lote Parshuram in Chiplun, Ratnagiri district, on 2,800 hectares, but later changed its plan and sought land in Tavsal.

In 2011, HPCL Chairman and Managing Director Subir Roy Choudhury had said the refinery would be ready in four years after it received the environment clearance.

Engineers India Ltd (EIL) has already prepared a detailed feasibility report for the new refinery. Apart from facing space constraints, HPCL's Mumbai refinery, with a capacity of 6.5 mtpa, is too old to be modernised.

HPCL had earlier said it might turn its Mumbai refinery into a national lubricant blending facility after a new refinery at Ratnagiri.

The Mumbai refinery has the highest lubricant production capacity in India and is spread over 350 acres. The two refineries together upgrade crude petroleum into many value-added products and 300 grades of lubricants, specialities
and greases.
Other than its Mumbai refinery, the company has one refinery each in Visakhapatnam (Andhra Pardesh) and Punjab, with capacities of 8.3 mtpa and 9mtpa, respectively.
HPCL's refinery in Bhatinda, Punjab was set up at a cost of Rs 21,500 crore (Rs 215 billion) under a joint venture with steel magnate L N Mittal. Capacity of the refinery can be increased to 18 mtpa, L N Mittal had said in April. "There are two clearances. Even if we get the initial clearance, we can begin the land acquisition process, but that has not come yet," the HPCL official added.
The Western Ghats panel report specified the entire hill range as an ecologically sensitive area, classifying 142 taluks in the Western Ghats boundary into ecologically sensitive zones (ESZ) 1, 2 and 3.
The committee has recommended "no new dams based on large-scale storage be permitted in ecologically sensitive zone 1 and no new polluting industries, including coal-based power plants, should be allowed in ESZ 1 and 2".
According to the panel, investigations in the plains and coastal tracts, with regard to the mining and related activities in Ratnagiri and Sindhudurg districts suggested these were under severe environmental and social stress.
The panel recommended "the current moratorium on new environmental clearances for mining, and red and orange category polluting industries and power plants in the plains and coastal tracts of Ratnagiri and Sindhudurg districts should be extended till satisfactory completion of a carrying capacity analysis. The moratorium may then be reviewed in light of the findings of the study".
The environment ministry has constituted a nine-member working group headed by space scientist and planning commission member K Kasturirangan to examine the Western Ghats Ecology Expert Panel report.
Added the HPCL official: "The moratorium has been extended up to December 2012. And thus our project is stuck. Till the moratorium is removed, we can neither procure the land nor the technology."