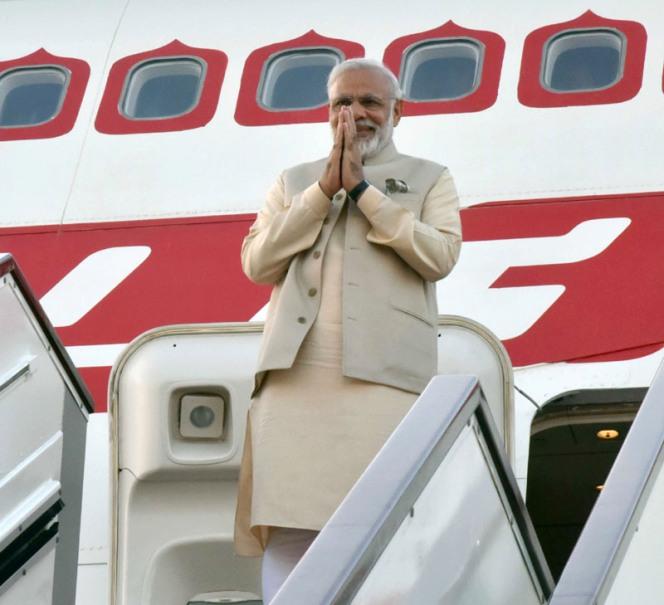 India likely to enter Missile Technology Control Regime; Amazon may announce fresh investments
When Amazon Chief Executive Jeff Bezos meets Prime Minister Narendra Modi in Washington DC on Tuesday, two days after the e-commerce major's third anniversary, he could spell out his company's investment outlook for India.
Bezos, also Amazon founder, will meet Modi as part of an industry round table.
He had earlier met the PM in 2014, after Amazon had announced a $2-billion investment for India.
The company, coping with the latest riders in the guidelines for foreign direct investment in online marketplaces, is ready to commit higher investments, sources said.
It is learnt Apple CEO Tim Cook, who met Modi and also tested business opportunities in cricket to Bollywood during his India visit, is not in the group of 20-odd CEOs for a tete-a-tete with the PM who's on a five-nation tour.
While regulatory issues faced by Amazon and Apple are seen as roadblocks in India, the PM roundtable with business heads is unlikely to take up those matters.
"Industry leaders in the US will talk about big-ticket investments to be made in India," Mukesh Aghi, president, US-India Business Council, told Business Standard.
The significantly large investment commitments are expected in Modi's signature schemes such as Make in India and Digital India, Aghi said.
Besides Bezos, the industry roundtable, organised by USIBC, will include CEOs of companies ranging from aviation to telecom, food to pharmaceuticals, finance to new technology.
PepsiCo's Indra Nooyi, Cisco's John Chambers, Mastercard's Ajay Banga, Boeing's Dennis Muilenburg, Lockheed's Marillyn Hewson, American Tower Corp's James Taiclet, Abbott's Miles White, Warburg Pincus' Joseph P Landy and Pfizer's Ian C Read are among the prominent names representing American companies expected to make investment commitments to Modi.
The Indian businesses will be represented by the likes of Sun Pharma's Dilip Shanghvi, Tata Consultancy Services' N Chandrasekaran, Wipro's Abidali Neemuchwala, and Tech Mahindra's CP Gurnani among others.
Estimates suggest that American companies have invested $27 billion in India in the past two years of the National Democratic Alliance rule, leaving apart the investments done via other countries, USIBC's Aghi had said recently.
According to him, the momentum will pick up.
Sources indicated defence and national security initiatives, including the possibility of India entering the Missile Technology Control Regime (MTCR), that would enable the country to buy predator drones from America and export hi-tech missiles to others, could be the essence of Modi's US visit.
But American companies' likely pitch for investment in India is expected to catch attention as well, they added.
Replying to a question on the nature of the likely defence initiatives with the US, Khanderao Kand, who was the convener of PM Modi's Silicon Valley program last year, said, "a broader strategic framework in the area of US-India Security alliance is being planned.
Indo-US cooperation is being transformed from transactional to strategic, covering a wider ground like logistic support, intelligence-risk analysis, joint military doctrine, Asia Pacific join exercises etc, he said.
While there's no Madison Square-like excitement during Modi's fourth visit to the US as PM, Kand, a familiar figure in the Indo-American community in the West Coast, said, "PM's address in US Congress itself would have an unparallel impact as well as viewership."
ACTION-PACKED AGENDA
June 6 evening
June 7
Meets US President Barack Obama
Meets US business leaders at an US-India Business Council event
Meets US think tanks and attends a ceremony marking the return of Indian antiques
Visits Arlington Cemetery to lay wreaths at the Tomb of the Unknown Soldier and Space Shuttle Columbia Memorial
June 8
Addresses a joint meeting of the US Congress
Image: Prime Minister Narendra Modi departs from Doha for Geneva, the third leg of his journey, June 5, 2016. Photograph: Kind courtesy, Press Information Bureau.