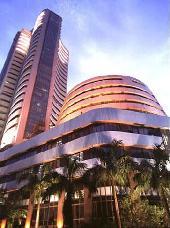 Markets ended marginally higher on Thursday, amid a rangebound trading session, led by financials on hopes of a rate cut by the central bank at its policy meet early next week.

Today was the expiry of October derivative contracts.

The 30-share Sensex ended up 49 points at 18,759 and the Nifty gained 14 points to end at 5,705.

In Asia, Japan's Nikkei average rose to a four-week closing high on Thursday, lifted by exporters as the yen weakened on growing expectations that the Bank of Japan would further ease monetary policy next week.

The Nikkei climbed 1.1% to 9,055. The Hang Seng ended up 0.2%, Straits Times gained 0.4%.

However, Shanghai Composite ended down 0.7%.

European shares were trading with marginal gainson on better-than-expected earnings from chemical giant BASF SE and Unilever NV.

The FTSE-100, CAC-40 and DAx were up 0.5% each.

Mortgage lender HDFC ended 2.1% higher at Rs 766 on hopes that the central bank would ease key policy rates at its meet on October 30.

ITC and L&T ended up 0.6% each after both companies recently reported robust second quarter earnings.

ICICI Bank gained 0.6% to end at Rs 1,086 ahead of its second quarter earnings on Friday.

Hero MotoCorp which opened lower in early trades after it reported 27% drop in second quarter profits late Tuesday firmed up after the company said that retail sales during the festival of Navratri topped two lakhs units.

The stock ended up 2.4% at Rs 1,838.

Sterlite Industries ended up 2% at Rs 100 on reporting a better-than-expected 75% year-on-year (yoy) jump in its consolidated net profit at Rs 1,743 crore for the quarter ended September 2012
due to forex gain and increase in power sales.
Mahindra & Mahindra moved higher by 3.6% to end at Rs 858 on reporting a better-than-expected 22% year-on-year (yoy) growth in standalone net profit at Rs 902 crore for the second quarter ended September 2012 on back of higher sales and other income.
Analysts on an average had forecast profit at Rs 880 crore from utility vehicles major.
Among Sensex losers, Hindustan Unilever ended down 1.2% ahead of its second quarter earnings on Friday.
Among other shares, Oriental Bank of Commerce has rallied 7% to end at Rs 314 bouncing back over 7% from intra-day low after reporting 80% year-on-year (yoy) jump in net profit at Rs 302 in the September quarter on back of higher other income.
Hawkins Cookers  moved higher by 8.7% to end at Rs 1,980 after the company said it has received a No Objection Certificate (NOC) from the Punjab Pollution Control Board for Hoshiarpur factory.
The company has also resolved the workers problem in company's factory in Uttar Pradesh by the signing of a wage agreement.
Stone One Retail India has surged 20% to end at Rs 40 on back of heavy volumes after reporting two-fold jump in net profit at Rs 10.53 crore for the quarter ended September 2012.
IRB Infrastructure has tanked 15.7% to end at Rs 119, extending its over 5% fall in past three trading sessions on reports that the IRB Group has made major investments and given large loans to Purti Power and Sugar Ltd controlled by BJP President Nitin Gadkari.
In the broader markets, Mid-cap index gained 0.15% and Small-cap ended down 0.17%.
Market breadth was weak with 1,556 declines and 1,288 advances on the BSE.