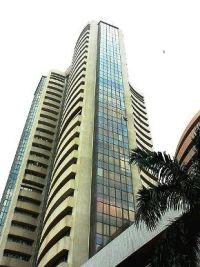 Markets ended lower on Friday, amid a volatile trading session, as investors turned cautious and booked profits in rate sensitive shares ahead of the US jobs data to be released later on Friday.

Further, worries of a probable sell off in index heavyweights by foreign institutional investors amid a weakening rupee also weighed on market sentiment.

The 30-share Sensex ended down 90 points at 19,429 after hitting an intra-day low of 19,398 and the 50-share Nifty ended down 40 points at 5,881 after touching an intra-day low of 5,871.

The rupee headed towards another all-time low this month as demand for the greenback continues.

The rupee breached the Rs 57 mark per dollar in afternoon trades on Friday due to demand for the greenback from oil importers, said currency traders.

On the global front, Japanese equities plunged to two-month lows on Friday, with the yen rising against the dollar as investors fretted over US jobs data due later, while constant market agonizing about the Federal Reserve's stimulus plans drove Asian shares to fresh 2013 lows.

The Nikkei average shed as much as 2.8% and entered bear market territory earlier, having lost 20 % from a 5-1/2 year high reached two weeks ago. The Nikkei ended down 0.2%, closing at its worst week in over two years.

European markets are trading almost flat.

Back home, India's retail inflation still remains high despite the wholesale price-led
inflation cooling off, Reserve Bank of India Governor Duvvuri Subbarao said on Friday.
On the sectoral front, BSE Realty, PSU, Auto, Power, Bankex, Metal, Capital Goods, Oil & Gas and Consumer Durable indices slumped by 1% each. However, BSE IT index spurted by nearly 2%.
Companies with high dollar debt also ended lower on concerns of the strengthening dollar.
Among the heavyweight, Bharti Airtel was the top Sensex loser, down nearly 3%.
Maruti Suzuki fell by almost 2.5% amid a one day production shut-down at its two plants at Gurgaon and Manesar today ahead of a six-day scheduled maintenance closure later this month.
Other notable losers are M&M, NTPC, JSPL, Tata Motors, Sterlite and SBI.
On the gaining side, technology shares firmed up on weak rupee as most of the revenue comes in dollar terms.
TCS was the top Sensex gainer, up by almost 4%. Wipro and Infosys gained by over 1%.
Other losers are Dr Reddy's Lab, Tata Power, Hero Moto, ITC and HUL.
Among other shares, Shipping Corporation of India ended nearly 5% up after the company said it has signed a deal with state-owned GAIL (India) for transportation of liquid natural gas.
Polaris Financial Technology surged by over 8% on reports that many software majors have evinced interest in acquiring the company's software services business.
Meanwhile, BSE Midcap index dipped by 0.56% and BSE Smallcap index ended marginally lower.
The market breadth in BSE ended weak with 1,328 shares declining and 1,029 shares declining.