Financials ended lower on profit booking while IT shares ended firm.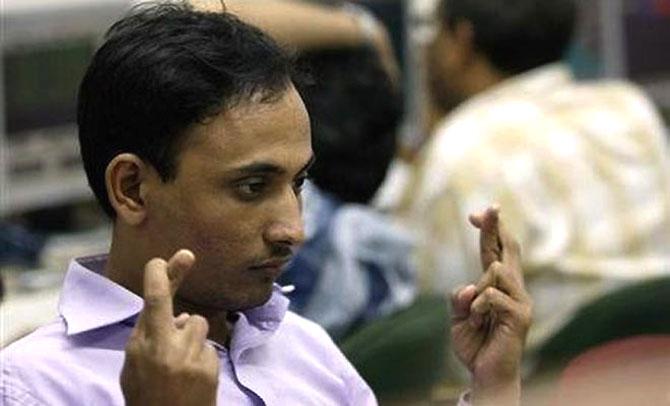 Markets gained for the third straight day amid rangebound trade as gains in IT shares helped offset losses in select blue chip shares with HDFC losing the most.
Meanwhile, losses in private banking shares after government decided to keep banks out of the composite foreign investment offset the gains in technology and healthcare stocks.
The 30-share Sensex closed higher by 17.19 points at 28,463.31 and 50-share Nifty gained 1.80 points at 8,609.85.
The broader markets, however, outperformed the benchmark indices- BSE Midcap and Smallcap indices were up 0.2-0.4%.
The market breadth ended neutral. Out of 2,969 stocks traded on the BSE, there were 1,433 advancing stocks as against 1,402 declines.
Further, foreign portfolio investors (FPIs) bought shares worth a net Rs 745.81 crore yesterday as per provisional data released by the stock exchanges.
Market view
According to K Subramanyam, Co-Head Equity Advisory, Altamount Capital, "The market has seen a 200+ rally this week and some pause or correction is to be expected. Technically, levels of 8,650 - 8,700 are areas of resistance.
Given the steep rise seen particularly in the mid caps, some profit taking would be ideal." RUPEE The rupee recovered by 3 paise to 63.48 against the US dollar on fresh selling of the American currency by exporters amid increased foreign capital inflows.
Monsoon
The southwest monsoon was 32% below normal in the first 15 days of July, key month for sowing of kharif crops.
Large tracts of central and southern India remained dry. This could have serious impact on the final output of pulses and oilseeds, unless there is a pick-up in the second half of this month. July is traditionally when there is the largest amount of rain in the four-month monsoon period.
Global markets
The dollar was set for its biggest weekly rise since May on Friday as economic data reinforced expectations for a US rate hike by the end of 2015, with euro zone shares steadying after strong gains as Greece looked set to secure a bailout. Euro zone shares were steady as a relief rally over Greece's bailout agreement ran out of steam.
The Euro STOXX 50 was flat on Friday but has rallied 8% over the last two weeks, its biggest fortnightly gain since January.
The MSCI World Index, which tracks stocks from developed economies, is up 2.2% this week, its biggest weekly gain since May.
MSCI's broadest index of Asia-Pacific shares outside Japan was up 0.4% as Chinese shares recovered further after a series of government support measures to halt their recent crash.
Sectors and stocks
Sectors such as IT, FMCG, Healthcare, Auto, Capital Goods, Consumer Durables and Power surged between 1-2%.
However, counters such as Banks, Metal and Realty declined between 0.1-0.2%. Yesterday, the Cabinet cleared a proposal to merge the limits of foreign direct and portfolio investments into composite caps to make foreign investment regime easier.
Composite caps have been suggested for sectors such as agriculture, tea plantations, petroleum and natural gas, manufacturing, airports, real estate, telecommunications, mining, non-banking financial companies and pharmaceuticals.
The top gainers on the Sensex were M&M, BHEL, Lupin, Infosys, ITC, Vedanta and Tata Steel. Capital Goods majors BHEL and L&T continued to rally in today's trade. BHEL and L&T were up 0.2-2%.
Lupin gained over 1.5% after receiving an approval from the US Food and Drug Administration (U SFDA) for generic PrandiMet, also known as Prandin used in type 2 diabetes. Shares of Sun Pharma ended higher by 0.5% after CLSA upgraded the stock. Among its peers, Lupin and Cipla were up 1% each.
Oil and Gas major ONGC rose by almost 1% on news stating that as its overseas arm ONGC Videsh is in a race to acquire two out of 14 blocks being offered by Mexico in historic auctions that are part of the Latin American nation's energy reforms.
RIL is up 0.6%. Telecom major Bharti Airtel surged around 1% on unveiling 4G trials in Hubli and Dharwad. Tata Steel increased 1% after the company announced its plans to refocus its speciality and bar business on high-value markets such as aerospace.
Tata Motors was up over 1% as it has proposed to raise Rs.4,400 crore from non-convertible debentures during the current fiscal to meet its expansion plan.
On the losing side, HDFC plunged over 2%. Coal India, HUL, Bajaj Auto, Wipro and Axis Bank slipped 0.5-2% each.
Smart movers
Deep Industries was locked at the upper circuit of 20% at Rs 117, also its 52-week high on the BSE, on the back of heavy volumes.
Titagarh Wagons was up over 7% on the BSE after the company announced its foray into metro coach and high-speed train manufacturing with acquisition of the Italy-based Firema Trasporti.
Mindtree ended higher by nearly 4% on the NSE after the company reported a slightly better-than-expected 7.4% quarter-on-quarter growth in consolidated net profit of Rs 138 crore for the first quarter ended June 30, 2015 (Q1).
Revenues grew 6.9% at Rs 982 crore on a sequential basis.
Delta Corp gained 5% after the company posted a consolidated net profit at Rs 10 lakh for the quarter ended June 2015 (Q1) against a loss of Rs 20 crore in the year-ago quarter.