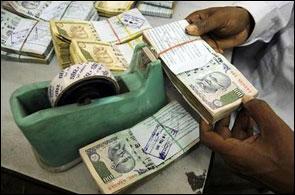 Rising for the first time in three sessions, the rupee on Thursday appreciated by 16 paise to close at 54.22 on renewed dollar selling by banks and exporters and strong capital inflows amid hopes of a rating upgrade.
Weakening of the US currency overseas and firm local equities also boosted the rupee sentiment, forex dealers said.
FIIs today lapped up domestic stocks in full force and pumped in a whopping Rs 1,449.70 crore, or $267.37 million, according to BSE provisional data.
Rupee resumed higher at 54.18 per dollar against the last closing level of 54.38 at the Interbank Foreign Exchange (Forex) market and hovered in a range of 54.11-54.26 before ending at 54.22, up 16 paise, or 0.29 per cent.
Forex dealers said positive comments by Economic Affairs Secretary Arvind Mayaram, who met with representatives of rating agency Standard and Poor's earlier in the day and exuded confidence that that global agencies will upgrade the country's sovereign rating, also boosted the market sentiment.
"I think there is a case for an upgrade because we have taken the kind of decisions that most of countries in the world have not been able to take. This country has shown its determination to put the economy back on track. We believe it will happen and there is no doubt about it," Mayaram said.
In London, the British pound rallied against most major currencies in early trade. At the same time, the US dollar fell against the Japanese yen today, sticking below the yen 100 level and the euro traded near the USD 1.30 level against the dollar.
"The rupee was seen trading stronger against the US dollar helped by the positive stock markets. Globally, the weakness in the dollar index and a recovery in the euro above $1.3050 levels contributed to the gains in rupee," said Abhishek Goenka, founder and CEO, India Forex Advisors.
Meanwhile, the BSE benchmark Sensex rose by 227.49 points to 19,406.75. Meanwhile, the premium for the forward dollar declined on fresh receipts by exporters.
The benchmark six-month forward dollar premium payable in September settled down at 157-1/2-159 paise from Tuesday's close of 161-162-1/2 paise and far-forward contracts maturing in March also finished lower at 324-1/2-326-1/2 paise from 330-332 paise.
The RBI fixed the reference rate for the US dollar at 54.1715 and for the euro at 70.6215.
The rupee dropped further against the pound sterling to 83.73 from Tuesday's close of 82.94 and also remained weak against the euro to 70.87 from 70.67.
It, however, recovered smartly against the Japanese yen to 54.70 per 100 yen from last close of 55.11.