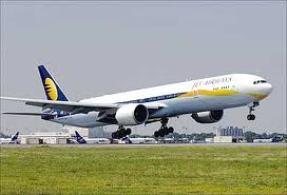 Jet Airways scrip on Thursday ended nearly 11 per cent higher after the company announced plans to sell 24 per cent equity to Etihad Airways for about Rs 2,058 crore.
After surging 20 per cent to Rs 688.60 -- its one-year high on the BSE in intra-day, the stock finally ended at Rs 635.20, up 10.69 per cent from its previous close.
At NSE, the scrip closed 9.96 per cent up at Rs 630.25. The market cap of the carrier rose by Rs 529 crore to Rs 5,483 crore.
"Jet Airways gained over 10 per cent for the day. The funds will help the company to reduce its high cost debt and can strategically help its international operations," said Nagji K Rita, Chairman & MD, Inventure Growth and Securities.
In the first ever investment by a foreign airline in an Indian carrier, Jet Airways on Wednesday announced plans to sell 24 per cent equity to Etihad Airways for about Rs 2,058 crore, as part of a strategic alliance that would lead to a major expansion in their global network.
Top officials, including Jet promoter Naresh Goyal and Etihad President and CEO James Hogan, announced the strategic equity alliance in Abu Dhabi under which the Indian private carrier would sell 27.26 million shares in a preferential offer to Etihad at Rs 754.74 a piece.
"The value of this equity investment is $379 million (about Rs 2,058 crore) and will result in Etihad Airways holding 24 per cent of the enlarged share capital of Jet Airways," a joint statement by the two airlines had said.
"Substantial ownership and effective control will remain with Indian nationals, with Goyal as non-executive Chairman holding 51 per cent of the company," the statement said.
This is the first investment by a foreign carrier in an Indian airline since the government changed the FDI policy in aviation last September to allow foreign carriers to pick up stake in their Indian counterparts.
Buying was also seen in other aviation stocks, where Spicejet soared 18.24 per cent and Kingfisher Airlines rose by 0.88 per cent amid hopes of more foreign direct investment in the sector.
In the broader market, the BSE benchmark Sensex ended at 19,406.85, up 227.49 points.