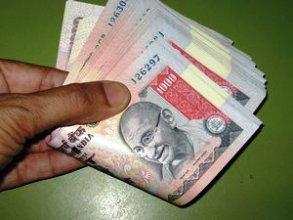 The rupee on Tuesday fell past the 68 mark against the dollar before closing at 67.63, down a whopping 163 paise, on concern that a build-up of tension over Syria would push oil prices higher and result in a costlier import bill.

Russian media, citing the defence ministry, said two missile launches were detected from the central part of the Mediterranean Sea, fired towards the east.

The report came amid concern about Western military action in Syria.

A strengthening dollar overseas also kept the rupee under pressure amid demand from importers. Goldman Sachs followed JP Morgan, HSBC and Nomura in cutting India's economic growth forecast and also said it expects the rupee to touch 72 against the dollar in the next six months.

Standard and Poor's indicated that chances of downgrading the country's credit rating were higher than for Indonesia, a forex dealer said.

The rupee started weak at 66.29 a dollar from the previous close of 66 at the interbank foreign exchange market and eased to 66.25.

It fell to 68.27 before recovering some ground to end at 67.63, down 163 paise or 2.47
per cent.
"The dollar strength after the expectation of war breaking out in Syria made the market to switch to a panic mode and resulted in a huge sell-off in local equity markets as well," said Abhishek Goenka, CEO of India Forex Advisors.
The benchmark S&P BSE Sensex on Tuesday tanked by 651.47 points or 3.45 per cent.
Foreign institutional investors bought a net Rs 475.92 crore (Rs 4.75 billion) of shares yesterday, as per provisional stock exchange data.
The dollar index was up 0.10 per cent against a basket of six major global units ahead of US manufacturing data due later in the day.
"The trading range for the spot USD-INR pair is expected to be within 67.30 to 69," said Pramit Brahmbhatt, CEO of Alpari Financial Services.