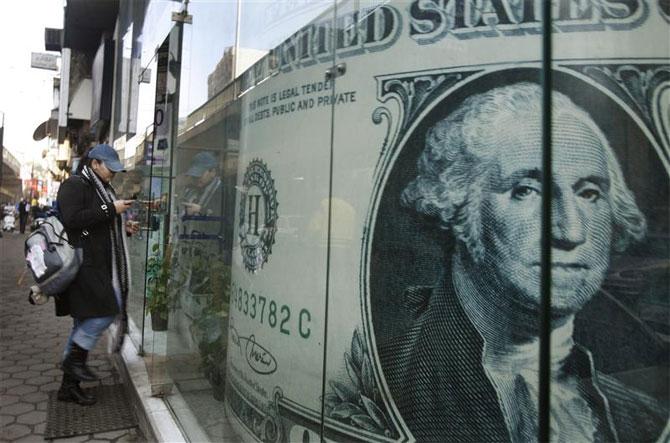 The rupee hit a two-week low on Thursday, falling for a third consecutive session as the dollar got a boost after the US Federal Reserve struck a more hawkish tone than expected at its policy meeting.
The dollar climbed to its highest in more than three weeks against a basket of currencies, after the Fed underscored the improving US labour market, raising concerns it may raise interest rates earlier than expected.
However, broader losses in the rupee were capped as domestic shares rose to record highs, raising hopes of continued foreign inflows.
Custodian banks were also seen selling dollars through the session.
Analysts also cited government measures on Wednesday relaxing rules for foreign investment in the construction sector as another positive for the rupee.
"Overall sentiment on rupee is still positive because flows continue towards India, and I think India will be the favourite destination among EMs (emerging markets)," said Hari Chandramgethen, head of foreign exchange trading at South Indian Bank.
"I expect a trading range of 60 to 62 (per dollar) for the rupee in the near term."
The partially convertible rupee closed at 61.45/46 per dollar, weaker from Wednesday's 61.35/36.
Intraday, it fell to as low as 61.55 per dollar, a level last seen on Oct. 17.
Analysts expect the rupee to be resilient, given investors are already starting to price in potential U.S. rate hikes, although much could depend on continued government reforms.
Moody's welcomed recent efforts by the government and the Reserve Bank of India (RBI) to boost economic growth and attract long-term investments, but said the measures would need to be sustained to have an actual impact on sovereign ratings.
In the offshore non-deliverable forwards, the one-month contract was at 61.69/79, while the three-month contract was at 62.29/39.